Find a Boat
LIVE
Pricing & Availability
Search NOW
Yacht & Catamaran Charter in Saint Tropez, France
We can help you find the perfect yacht or catamaran to sail from Saint Tropez!

Sailing from St Tropez
If you're looking for a new sailing experience, then sailing in the French Riviera might be just the thing for you - aside from the incredible beauty of the place, there is possibly nothing more decadent that turning up at some of the hottest tourist destinations in the world in your own private yacht or catamaran. It's the sort of thing you'd expect of film stars and the like, but, whilst it is a little more expensive that sailing elsewhere, it's also good value for the incredible experiences you can have.
From glorious Saint Tropez - famous for its stellar beaches, beach bars and a champagne-fuelled party atmosphere beloved of royalty, celebrities and business tycoons - it's possible to sail to join the in-crowd in Cannes, and Monaco. It's not just about the big-hitting destinations though - there are plenty of other places to explore, including the chance to get off the beaten track - like the Iles de Hyeres, home of a National park to protect nature and wildlife, where you'll find quiet bays and stunning scenery. We can help you find and book your ideal yacht or catamaran, with one of our trusted Charter Partners - just get in touch or search in the pink box with live prices and availability!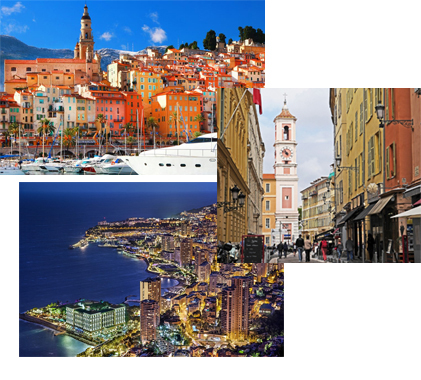 SAILING RATING: Intermediate - The French Riviera is a splendid place to sail and explore, but winds can be somewhat unpredictable, and with hot stormy weather a couple of times a year, there is some risk that you'll encounter stronger winds than you would like. Peak season is July & August, but you can sail here from March to October.
MUST-SEE: Our full suggested itinerary is further down the page, but we'd highly recommend taking in the key highlights of the French Riviera - namely beautiful Cannes, the old town of Nice, and the luxury super-yacht enclave of Monaco.
WHAT WE CAN OFFER: We have a great range of yachts and catamarans available for charter from our trusted Charter Partners, all available bareboat or Skippered. We can also arrange a Hostess, Personal Chef and other crew.
GETTING THERE: Cogolin marina is an hour from Toulon, 90 minutes from Nice and 2 hours from Marseille airport. We can organise transfers for you - a 4 person taxi is c. €180 - 250.
WHY BOOK WITH US? We only work with the very best professional charter operators, who we have met, know, and trust to give you the same outstanding customer service as you'll get from PlainSailing.com.

WHAT NEXT? Use the pink box to search for yachts or catamarans with LIVE pricing & availability - if you have any other questions or requests, get in touch via Live Chat, the Contact Form, or by phone.
Why book with PlainSailing.com?
We're yacht and catamaran charter experts, and can find you the best boats in Greece, Croatia and anywhere else in the Med or Caribbean - yacht, catamaran or superyacht-bareboat, skippered or crewed

We're UK based, only work with the best Charter Companies, offer exceptional customer service from start to finish and will match any price!

Independent Service Rating based on
428
verified reviews.
---
6-day Sailing Itinerary from Saint Tropez
There's so many great places to head to near Saint Tropez that it would be impossible to even see them all in a week, so you'd likely head South to the the peace and tranquillity of the Iles de Hyeres or northwards to Cannes, Nice and Monaco and Antibes. If you has the boat for longer, it would also be possible to sail as far as idyllic Portofino in Italy!
Wherever you go, you'll find great facilities, sunshine, stunning views, outstanding food and fine wine - in short, all the ingredients you will need to have a memorable holiday (assuming you have the right crew to share it with).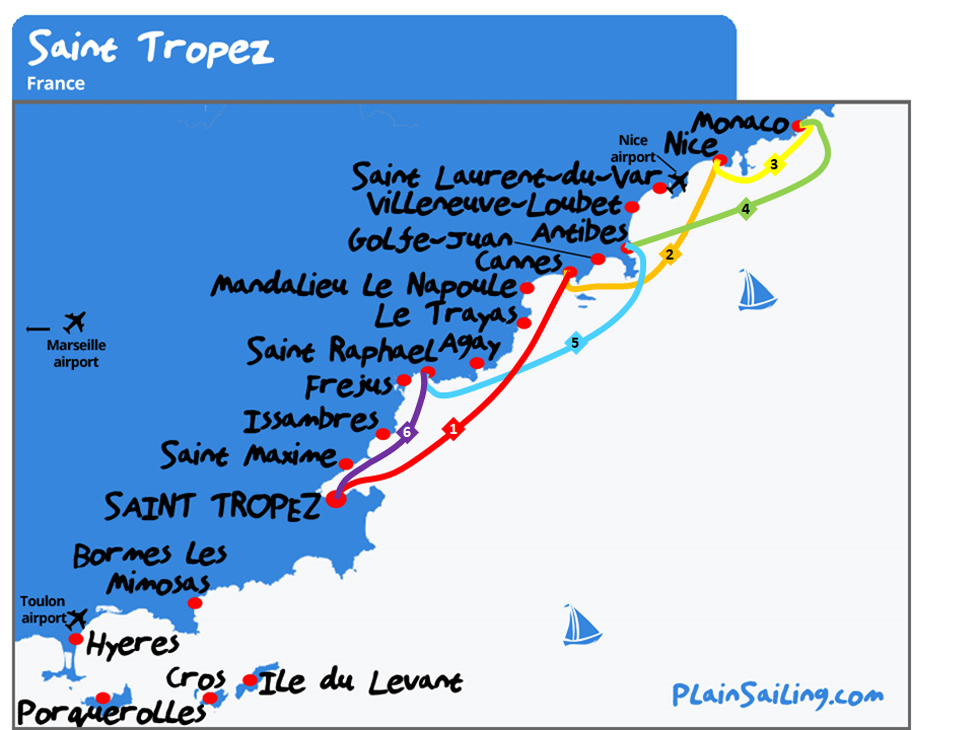 Our six-day itinerary covers 105 nM and heads northwards for an unforgettable voyage taking in all the highlights of the French Riviera, and arriving there in style. This distance lends itself to a leisurely pace – you'll only need to be sailing with purpose for 4 or so hours a day, which leaves plenty of time to enjoy coffee in a fancy piazza before you leave each port, take a long lunch or swim mid-way, or to arrive nice and early to explore the next port. (It also means you could, if you were inclined, stay out late at the casino each night, and catch up on rest during the day!)
It only covers six days because you'll normally only be able to board the boat on the Saturday afternoon - so you likely won't be able sail as far as the next port – and you have to return the boat to the home marina on the Friday evening, before disembarking (unless you pay the supplement to stay on the boat for the Friday night too).

Day 1. Saint Tropez to Cannes – 26 nM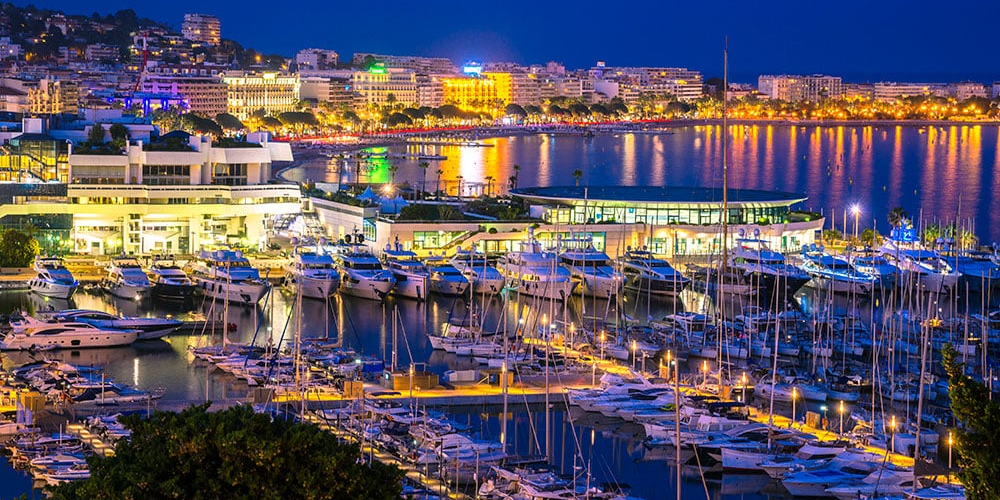 Good morning! And what a morning to be setting out on a boat from Saint Tropez! Make sure everyone is aboard, all your food and kit is safely stowed, then let's make way. At 26 nM, today is the longest leg of the itinerary, which will help you get to grips with the boat (and your crew). Fire up the engines, nose out of the marina, and then get the sails out - we're heading North-East along the delightful French Riviera, likely using a reach as you head across the prevailing North-westerly summer winds which spill off the Pyrenees.
Our first port of call is Cannes, home of glitz and glamour, as well as the world-renowned international film festival which takes place here in May each year, and which attracts A-list stars from across the globe. Take a stroll along the main seaside Promenade de la Croisette and enjoy the decadent atmosphere, stunning beaches, palatial hotels and champagne bars. This is the life!
Day 2. Cannes to Nice – 17 nM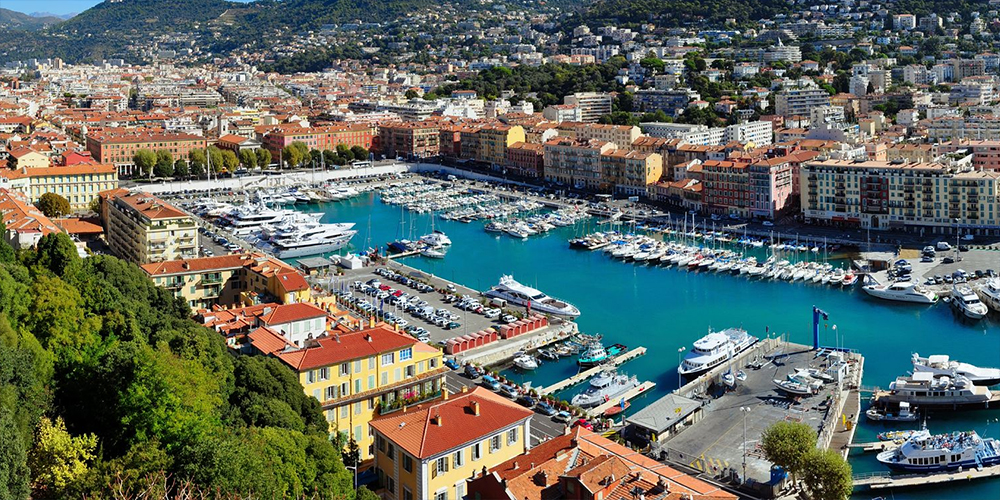 From bohemian Cannes, we're heading further north up the coastline today to the immense Nice. As you leave Cannes, you'll sail past the Ile Sainte Marguerite, which was home to the Man in the Iron Mask for 11 years - one of France's darkest secrets, conspiracy theories include that he was the identical twin of the king, and the king himself had him locked away. Perhaps we will never know. The other Ile Saint-Honorat is best known for the wine produced by the monks who live there – it is certainly worth a glass or two.
Reaching onwards and upwards, you'll skip past Antibes (have a quick look, but we're coming back here later on the itinerary), before arriving at Nice, which is also capital of the Riviera. Literally millions of land-lubber come to enjoy the fine architecture, sunshine, food and wine here – and it has long been popular with British aristocrats. The top things to do are to check out the old town or to walk up castle hill for the sensational views over the town – or both, if you have the time!
Day 3. Nice to Monaco – 9 nM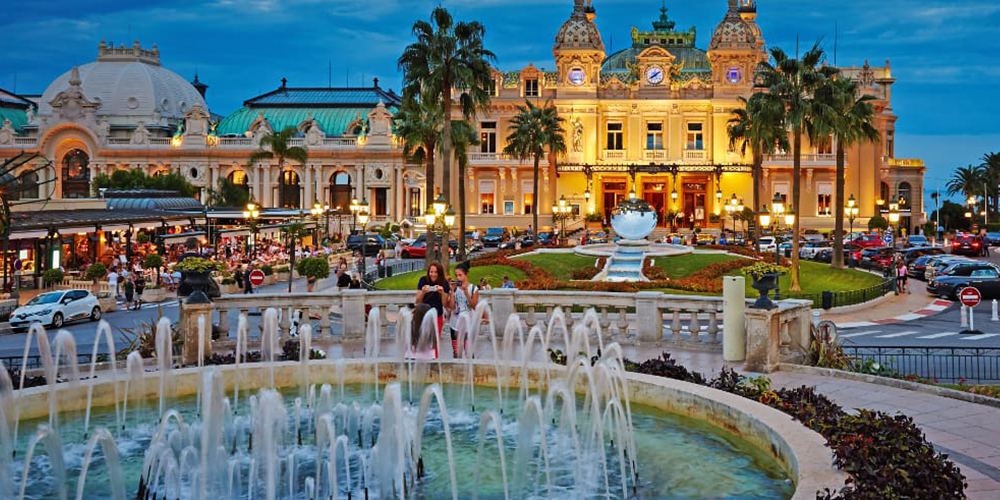 It's only a short hop from Nice to Monaco, so you have time to enjoy Nice before you set out reaching on up the coast again. It's only 9 short nautical miles from Nice to Monaco, but you'll be sailing to another country entirely. With an area of under 1 square mile, Monaco is the world's second smallest country (behind the Vatican City). It has a low tax regime, and it's estimated that over 30% of the population of 40 thousand people are millionaires.
You'll most likely be familiar with Monte Carlo, the district of Monaco where you'll find historic casinos and massive hotels, and which has been made famous by the likes of James Bond. Beware that there is a dress-code and an entry fee and passport if you plan to head to the grandest casinos - oddly enough, citizens of Monaco are forbidden by law from gambling here, but they will have no problem taking money off tourists. Away from the casinos, the old town medieval Monaco-ville is well worth a visit, and there's plenty enough impressive cathedrals, churches, palaces and exotic gardens to keep things interesting.
Day 4. Monaco to Antibes – 17 nM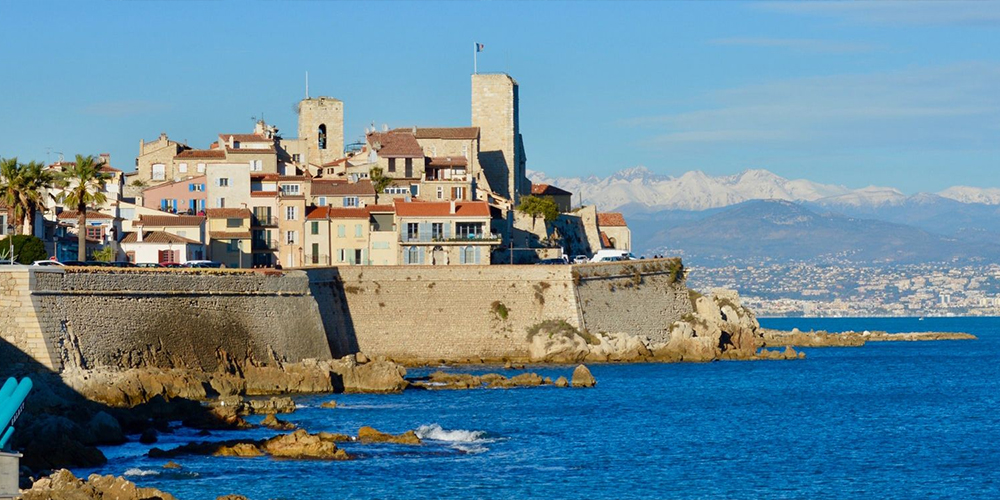 Monaco is the furthest point north on the itinerary, so we'll need a change of tack from the crew, and they'll have to sit on the opposite side of the boat for their sunbathing, reading, or quaffing from here on in. We're heading back South-west, past Saint-Jean-Cap-Ferrat (where you'll find the most expensive and exclusive real-estate in Europe) and onwards to Antibes, a village founded by the Greeks over 2,000 years ago, and one of the oldest in the Med.
Antibes has been a popular tourist town for over 150 years – it has fine beaches, fine weather, fine food, fine views and beautiful buildings. It is perhaps best known for its connection to Pablo Picasso, who spent just under a year here living and working in the fort (which has now been converted into a Picasso museum). Antibes is slower-paced than Monaco and Nice, so it's an excellent place to relax.
Day 5. Antibes to Saint Raphael – 23 nM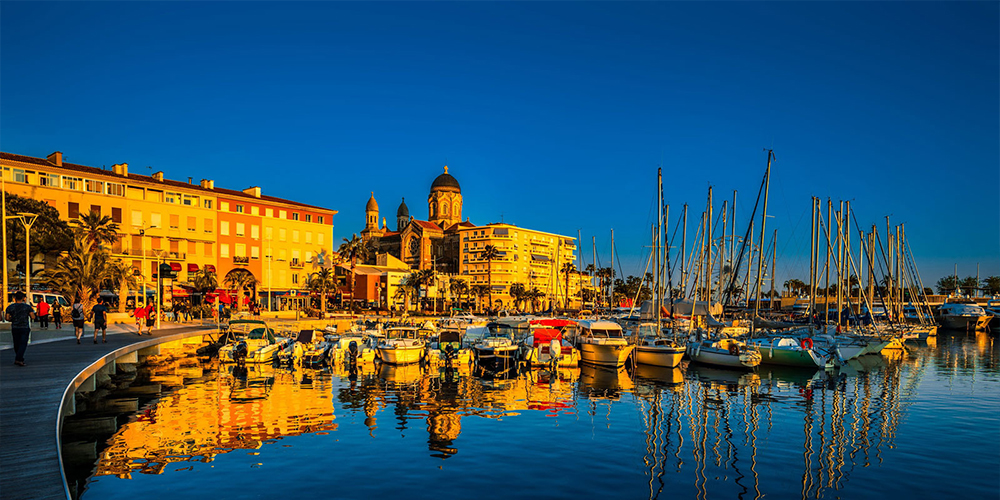 You'll no doubt have been appreciating the superb scenery of the French Riviera along the way, and today – with a view of Cannes from the sea - will be no different. Of particular note, Golfe-Juan was where the most famous Frenchman, Napoleon Bonaparte, secretly landed with 600 troops in March 1815 - they slowly crept their way onwards to Paris, where he liberated the country! (Sadly for the French, he was defeated at Waterloo in June 1815, so…). Aside from the bigger buildings, the coastline will look pretty much the same as it did in 1815.
We are reaching south-west again to finish the day in historic Saint Raphael, once a fishing village, now a grand town that quietly gets on with having the best beaches in the area. It also has history with Napoleon (who landed here in 1799 prior to his first coup…), as well as a wonderful old town, botanical gardens, and, further afield, sites of ancient Roman importance.
Day 6. Saint Raphael to Saint Tropez – 13 nM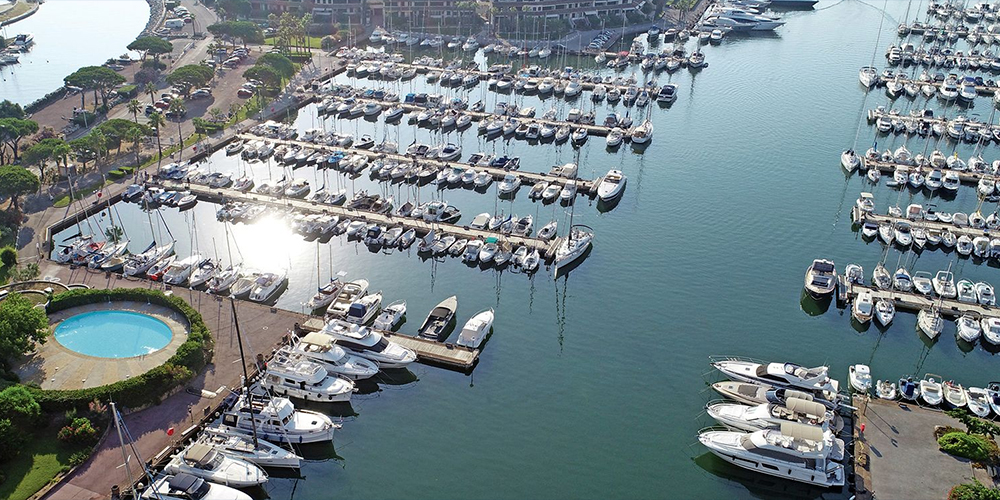 How time has flown. It's time to make one final skirmish down the coast to return back to the base marina at Cogolin – sailing past iconic Saint Tropez, or even heading there for a decent lunch.
Unusually for a week-long Mediterranean charter, you'll need to complete check-out and disembark the boat tonight too (unless you have paid the surcharge to stay over the Friday night) – and you'll likely need to refuel the boat before you moor her up for the final time.
If you've not yet been to Saint Tropez, it is highly recommended – it's literally a handful of miles in a taxi away, and you'll be transported into a whole new world where people have exuberant joie de vivre (and big fat wallets). There is certainly nothing quite like a Friday night in Saint Tropez!
Then it's onwards and back to the airport, and the delightful sunny Cote d'Azur will seem a distant but beautiful memory. If you've rediscovered a love for sailing, then head to with PlainSailing.com to see where else you can charter from with us - though I guess you could always head back here next year…?
---
Sailing Conditions
 WHAT ARE THE WINDS LIKE?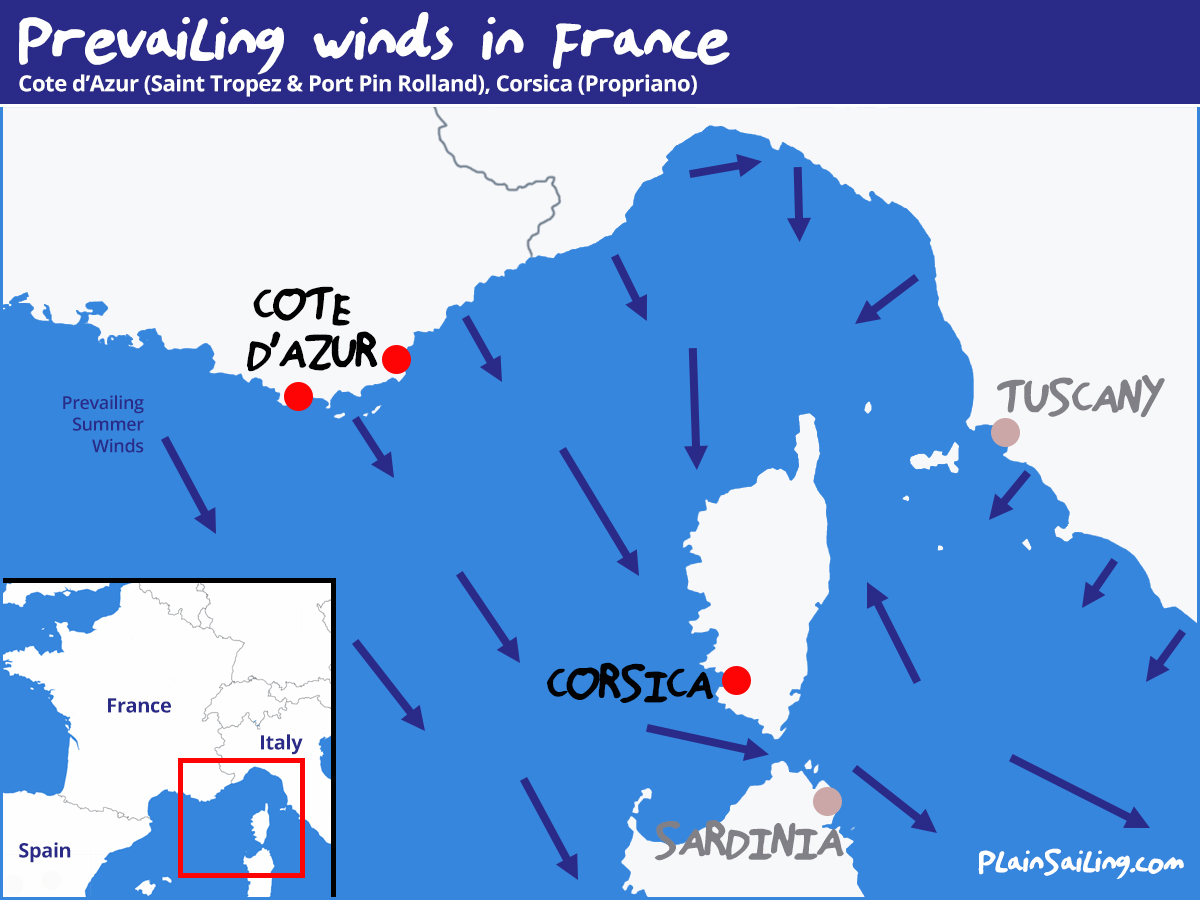 Whilst sailing in France is (for the most part) a joy, there are occasional times when it can be tricky and a little unpredictable - there is no real prevailing wind in this part of the Mediterranean, though wind is more slightly more likely to arrive from the North-east or North-west. This keeps you on your toes and adds some interesting variation to your sailing plans!
From May to September, wind speeds are generally 5-15 knots and easy to navigate, though there are occasional days when Mistral winds roll down the nearby mountains at high speed, so it is worth checking the forecast regularly.
The Mistral winds are stronger and more regular in the off-season and winter, when winds can reach Force 9 (which is 'stay safe in the marina instead' territory!), but they move on pretty quickly, so sailing after the typical season has ended can still be a lot of fun.
 HOW HOT WILL IT BE? 


The season starts to hot up from May, when it starts regularly hitting over 20 degrees. The peak of the season only averages 23 degrees, so it shouldn't ever feel so hot that you can't move unless you've got an ice-cream in your hand.  There are times that it reaches hotter than this, but they usually pass relatively quickly.
 HOW WARM IS THE SEA? 


Being the Med, the sea never gets too cold, although you would struggle to tempt most of us into the water at 13 degrees! Thankfully, at the height of the season an a much more pleasant 23 degrees, which is about the same as an indoor swimming pool.  Apart from you're outside, in an amazing private bay, with blue skies, and a bottle of champagne in the fridge...
---
Marina Details - Marines de Cogolin
Marines de Cogolin is located 10km up the coast from Saint Tropez, and is one of three marinas in the area, which house up to 1,600 boats of all shapes and sizes. Previously private owned, it was re-acquired by the local council in 2017 and there are major development plans to improve the facilities here - both for sailors, and for the ever-growing number of tourists who now visit the area each summer. The marina has everything you'd expect (water, electricity, toilet facilities, wifi), as well as plenty of things to do, eat or see, and being a brilliant starting point for exploring the French riviera.
It sometimes possible to stay on board the night before or after your charter, but if not, then the two-star Marina Hotel Club is based in Cogolin marina and is cheap and well located. Alternatively, our favourite five-star hotel in the area is Kube Saint Tropez, which is just a few kilometers along the coast, or you could also stay in Saint Tropez itself.
WEBSITE: No website | ADDRESS: Les Marines de Cogolin Marina, 36 Esplanade de la Capitainerie, Cogolin, 83310
GETTING THERE: The nearest airports to Marines de Cogolin (10km from Saint Tropez) are at Toulon (a particular favourite with budget airlines, and only 1 hours drive away), Nice (1 and a half hours away) and Marseille (2 hours drive). We'll gladly help you arrange transfers to and from the marina so that you can arrive in style, or there are local buses and trains that wind there way up and down the coast - though the journey times are perhaps longer than you would like.
PROVISIONING: There is a mini-market in the marina for the basics, but for stocking up fully you'll want to head to the Casino supermarket, which is about 500m in-land from the Marina.
FUELLING AT END: There is a fuelling berth in the Marina - head there before you head back to your home berth (there might be a queue...)
Loading Map Co-ordinates...
---
---
WHAT NEXT? Use the pink box to search for yachts or catamarans with LIVE pricing & availability - if you have any other questions or requests, get in touch via Live Chat, the Contact Form, or by phone.