Why Book With Us?
Simple, straightforward process
Outstanding customer service
Friendly UK-based team
Pre-order food, kit or WiFi onboard
Join Our Mailing List
Yacht & Catamaran Charter in Saint Tropez, France
Looking to sail from Saint Tropez? Search to find and book your ideal boat, or read everything you need to know: prevailing winds, where to sail, how to get there and more!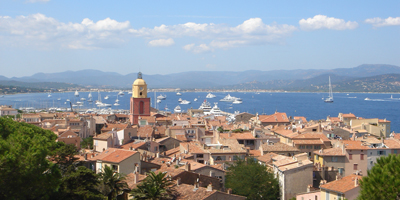 If you're looking for a new sailing experience, then sailing in the French Riviera might be just the thing for you - aside from the incredible beauty of the place, there is possibly nothing more decadent that turning up at some of the hottest tourist destinations in the world in your own private yacht or catamaran. It's the sort of thing you'd expect of film stars and the like, but, whilst it is a little more expensive that sailing elsewhere, it's also good value for the incredible experiences you can have.
From glorious Saint Tropez - famous for its stellar beaches, beach bars and a champagne-fuelled party atmosphere beloved of royalty, celebrities and business tycoons - it's possible to sail to join the in-crowd at mesmerising Cannes, to moor up in the delightful old town of Nice ("Oh, you've been there? We sailed there in our yacht"), and thrilling Monaco, a city which doesn't sleep, and where you're likely to hang out with F1 stars and James Bond. All exceptional destinations, with fine food (there are 26 restaurants in the area with at least one Michelin star!), fine wine, and beautiful and fashionable people. There's also lively Antibes and historic Saint Raphael, amongst many others.
It's not just about the big-hitting destinations though - there are plenty of other places to explore, including the chance to get off the beaten track - like the Iles de Hyeres, home of a National park to protect nature and wildlife, where you'll find quiet bays and stunning scenery. There really is something for everyone here, and the sunshine and easy sailing conditions make it the ideal place for you to sail next!
---
---
Sailing from Saint Tropez
There's so many great places to head to near Saint Tropez that it would be impossible to even see them all in a week, so you'd likely head South to the the peace and tranquillity of the Iles de Hyeres or northwards to Cannes, Nice and Monaco and Antibes. If you has the boat for longer, it would also be possible to sail as far as idyllic Portofino in Italy!
Wherever you go, you'll find great facilities, sunshine, stunning views, outstanding food and fine wine - in short, all the ingredients you will need to have a memorable holiday (assuming you have the right crew to share it with).
We have exclusive rates on the local Imray Charts or you can check out our very own sailing distance calculator to check distances and easily plan your route before you go.
Top 3 things to see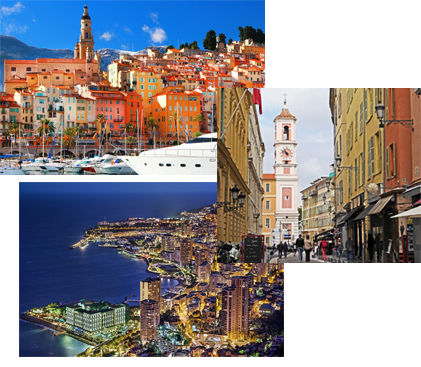 Check out our 6-day itinerary below, or if you're planning your own itinerary, here's our top 3 places to visit in the area:
Cannes (25 nM from Saint Tropez)
Perhaps most famous for it's glitzy and glamourous film festival in May, Cannes is a picture postcard coastal town with a beautiful coastline, elegant buildings, swanky restaurants and joie e vivre!
Nice (43 nM from Saint Tropez)
Nice is an important and historic town in the French riviera, with an absolutely stunning old town. The views over the town and out to sea from Castle Hill are immense, and there are galleries crammed with fine art to admire, luxury shops, and decadent restaurants.
Monaco (47 nM from Saint Tropez)
The most famous place in the area, and loved by the rich and famous due to it's low tax rates, beautiful streets and fine weather. The F1 races here each year, but most people come here to visit the super-impressive Casino de Monte Carlo and to live the high life.

Suggested 6-day itinerary
Our six-day itinerary covers a leisurely 105 nM and heads northwards for an unforgettable voyage taking in Cannes, Nice and Monaco (Monte Carlo), before heading to slightly quieter - but just as beautiful - spots on the way back southwards to Saint Tropez, including Antibes (which has an ancient Greek history and is where Napoleon was once jailed), and Saint Raphael, the oldest port on the coast.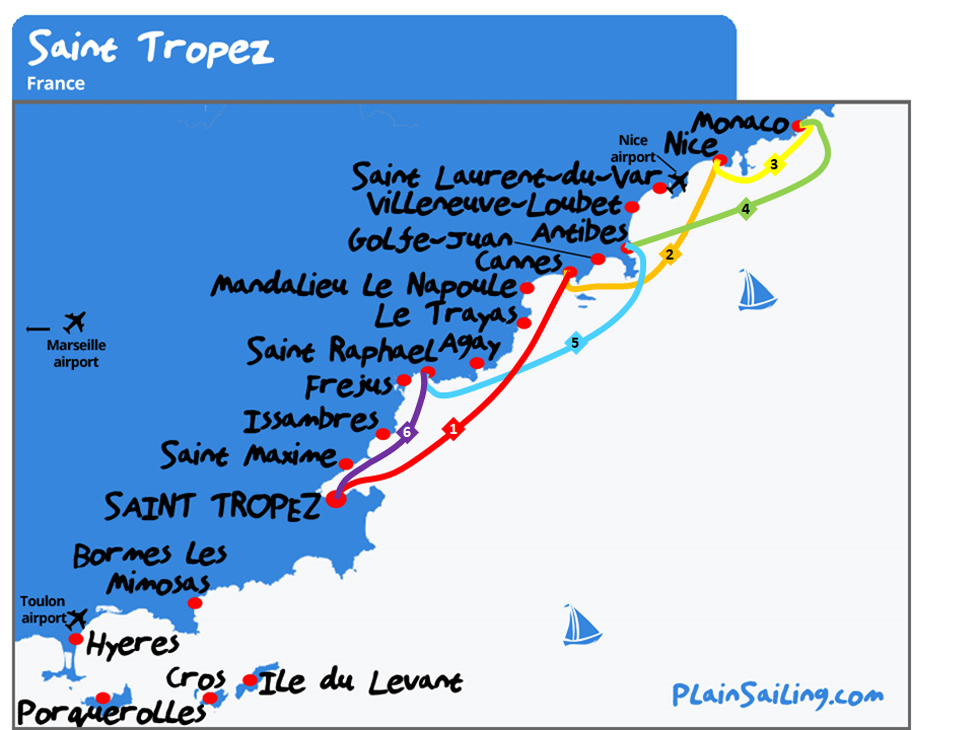 Day 1. Saint Tropez to Cannes – 26 nM
Day 2. Cannes to Nice – 17 nM
Day 3. Nice to Monaco – 9 nM
Day 4. Monaco to Antibes – 17 nM
Day 5. Antibes to Saint Raphael – 23 nM
Day 6. Saint Raphael to Saint Tropez – 13 nM
---
Sailing Conditions
What temperature will it be?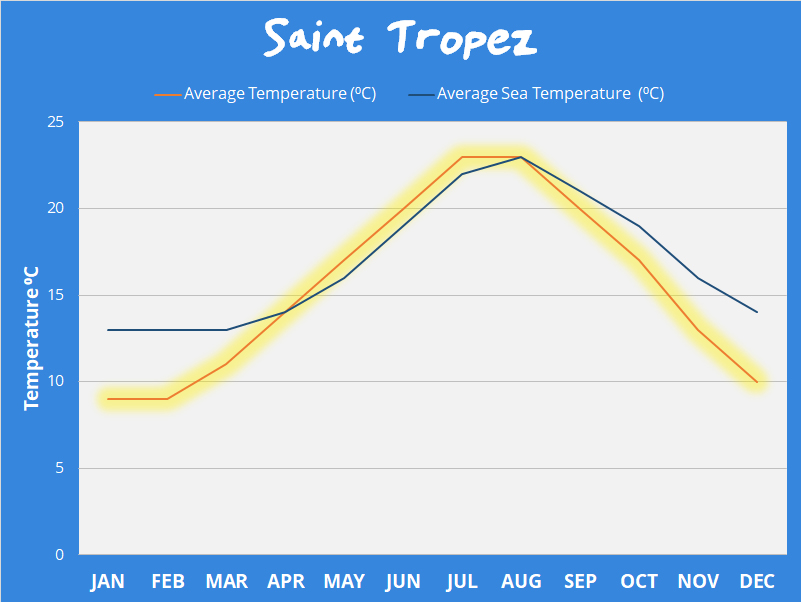 See the graph for weather averages.
What is the wind like?
There is no prevailing wind in this part of the Mediterranean, though wind is more slightly more likely to arrive from the North-east or North-west.
From May to September, wind speeds are generally 5-15 knots and easy to navigate, though there are occasional days when Mistral winds roll down the nearby mountains at high speed, so it is worth checking the forecast regularly. The Mistral winds are stronger and more regular in the off-season and winter, when winds can reach Force 9.
What is the Current Weather in Saint Tropez?
If you're off sailing in a couple of days, you might be interested to know what the 7 day forecast is - our handy widget below should give you a good idea, though once you're out there we recommend using windguru.cz. 
---
Our Guide to Saint Tropez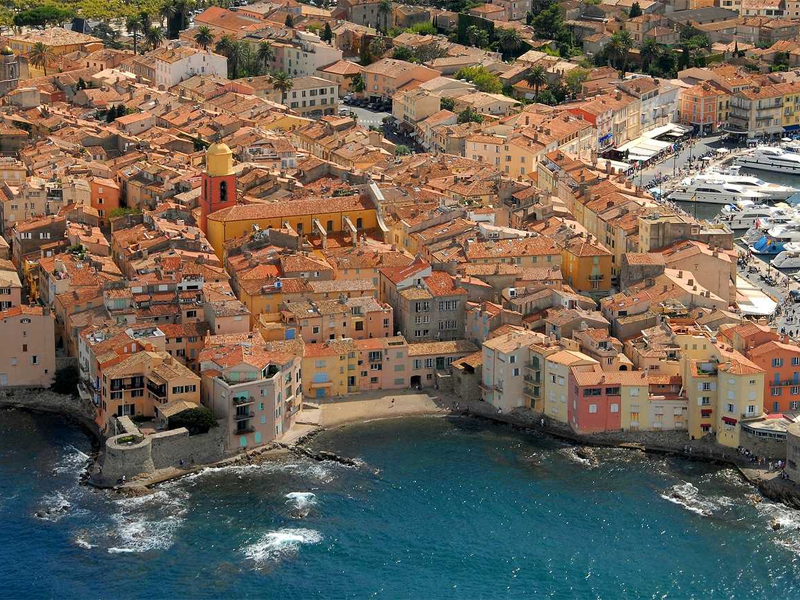 Saint Tropez is probably known throughout the world for being THE holiday resort for the rich, famous and the jet-set - complete with Michelin-starred restaurants, six-star hotels, champagne-fuelled beach parties, and being choc-full of people living the high life. But it's much more than glitzy beach bars and shops full of luxury designer goods: it has fine weather, beautiful beaches, stunning scenery, elegant architecture, and a happiness and joie de vivre that you simply can't find anywhere else.
A village has stood in it's place since 600 BC, and the town has a long and interesting history, including: defending itself from invaders (hence the city walls and the towers); being named after the martyr Saint Torpes (after his decapitated corpse ended up landing on the local beach); being an Italian enclave for 60 families from Genoa who came to save the town; being the launch point for Operation Dragoon in WWII which saw the reclamation of Southern France for the allied forces; and, more recently, being the setting for super-famous films by Brigitte Bardot (which triggered its' ascent into tourism); and now, being the favourite holiday destination for everyone from Ricky Martin to Aerosmith to 50 Cent (all of whom have waxed lyrical in the pop charts about this place.
As well as heading to the beach (where clothing is mostly optional) or the swanky beach clubs, you can check out art galleries packed with paintings by the old masters, including local boy Paul Signac, there are shops of the likes of Gucci, Prada and the ilk to peruse, and all manner of theatrics and festivities that you would expect from a village that has been at the forefront of French art culture for decades.
It is a wonderful place to spend the evening, to enjoy the holiday atmosphere, to people-watch, and, ultimately, to relax. Within a few hours here, you're almost guaranteed to say "This is the life".
---
Marines de Cogolin
Marines de Cogolin is located 10km up the coast from Saint Tropez, and is one of three marinas in the area, which house up to 1,600 boats of all shapes and sizes. Previously private owned, it was re-acquired by the local council in 2017 and there are major development plans to improve the facilities here - both for sailors, and for the ever-growing number of tourists who now visit the area each summer. The marina has everything you'd expect (water, electricity, toilet facilities, wifi), as well as plenty of things to do, eat or see, and being a brilliant starting point for exploring the French riviera.
| | |
| --- | --- |
| Long / Lat: | N 43° 15'50. E 6° 35'21 |
| Telephone: | 0033 (0)494 560 731 |
| VHF Channel | 16 |
| Berths: | 420 |
| Facilities: | Boatyard, Chandler, Electrical supply, Fresh water, Fuel: Diesel (can be arranged), Fuel: Petrol (can be arranged), Launderette, Parking, Pub / Restaurant, Shop / Supermarket, Showers, Toilets, Telephone, Visitors berths, Wifi |
Address:
Les Marines de Cogolin, 83310 Cogolin,France
Getting there:
The nearest airports to Marines de Cogolin (10km from Saint Tropez) are at Toulon (a particular favourite with budget airlines, and only 1 hours drive away), Nice (1 and a half hours away) and Marseille (2 hours drive). We'll gladly help you arrange transfers to and from the marina so that you can arrive in style, or there are local buses and trains that wind there way up and down the coast - though the journey times are perhaps longer than you would like.
Loading Map Co-ordinates...
---
Getting to the Marina
The nearest airports to Marines de Cogolin (10km from Saint Tropez) are at Toulon (a particular favourite with budget airlines, and only 1 hours drive away), Nice (1 and a half hours away) and Marseille (2 hours drive). We'll gladly help you arrange transfers to and from the marina so that you can arrive in style, or there are local buses and trains that wind there way up and down the coast - though the journey times are perhaps longer than you would like.
This page last updated: September 2018
We do our best to keep this information as up-to-date and accurate as possible, but obviously we can't be everywhere at once. If you are aware that any information on this page is incorrect, please let us know by emailing marina@plainsailing.com.
---
---