Find a Boat
LIVE
Pricing & Availability
Search NOW
https://plainsailing.com/blog/top-3-places-to-sail-to-in-the-bahamas
Top 3 places to sail to in the Bahamas!
Wednesday, 2nd August 2023
Everywhere in the Bahamas is amazing, but our experts pick out their top 3 places to sail to!
Practically everywhere in the island archipelago of the Bahamas is a tremendous place to sail to – wherever you make landfall, you'll almost certainly find somewhere with a spectacular and pristine beach (ideally with some kind of bar or beach-bbq going on), delightful wildlife, an interesting history and welcoming hosts.
But if you only had a weeklong yacht or catamaran charter in the Bahamas, where should you head to first, and why? Our experts compared notes and decided on these three: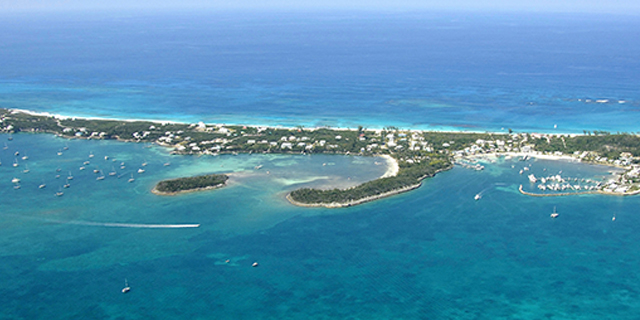 Great Guana Cay
Great Guana Cay is a long thin island to the north of our base in Marsh Harbour and is the ultimate Bahamian island because you'll find everything good or bad about the Bahamas right here.
It has absolutely superb beaches of silky-smooth white sand, often lined with palm trees, and being gently lapped at by warm tropical sea. It also has (at least) two world-famous beach bars (Nippers, where Justin Bieber proposed to his girlfriend) and Grabbers (where the sunset is insane).
You can snorkel in the coral reef, gawp at tropical fish, or try and spot turtles - plus it's got an historic old town, nestled around a centuries-old natural harbour – the stories this harbour could tell! – and the whole island has a relaxed, warm, lively and authentic vibe.
(Sadly, there's also the bad side of the Bahamas on the island here, as a third of the island has been sold off to an over-sized exclusive holiday resort development, but you can choose to go celeb-spotting or sail straight on by).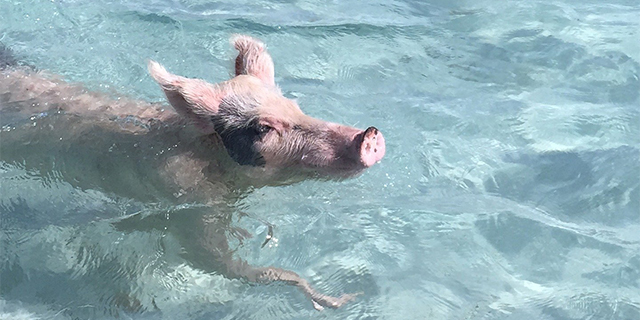 Green Turtle Cay
Green Turtle Cay is another stunning Bahamian island, with beautiful and inviting beaches and a relaxing peaceful vibe. New Plymouth is a cute little town which compares very favourably with the old Plymouth (back in the UK) which the town is named after.
As the name suggested, this place was teeming with Green Turtles about 200 years ago. Sadly, there aren't so many Green Turtles flapping around the island these days – though can spot them occasionally – but the nature is what makes this island stand out above all the other stunning islands in the area.
There's great snorkelling for funky fish and turtles, but it's the swimming pigs which are the main novelty and tourist attraction – yeah, you read that right, swimming pigs. These guys are wild pigs that like to go for a swim for fun (and will gladly swim with you if you pay them in food). Some people travel half the globe just to come and see these pigs!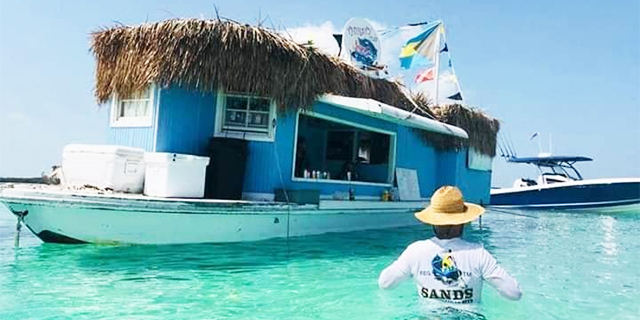 Elbow Cay
Elbow Cay is yet another jaw-droppingly idyllic Bahamian island, with the usual stunning beaches which will make you want to sit back and relax a while.
In the North is the historic Hope Town, which was built by British forces when they ran away from the USA after losing the civil war. It's home to a few lively bars, a number of holiday homes, and a celebrated striped lighthouse (built in 1837).
The best bit of the island is further south, where there's the best beaches, and where you'll find 'the Thirsty Cuda' which is the best floating bar and burger joint in the World. It might also be the only floating bar and burger joint in the world, but regardless, there's nothing more satisfying than swimming up for a burger and a drink!
Sold it you yet?
Search in the pink box for yachts and catamarans in the Bahamas with live pricing and availability, or contact our award-winning Customer team through LiveChat, UK Freephone or email!
Want more like this?
This is part of our 'Destination Highlights' week of blogs focussing on sailing in Bahamas - including Why you need to sail in the Bahamas, the Top 3 places to sail to in the Bahamas, Real-life Pirates of the Caribbean, and When is the best time to sail in the Bahamas. You might also be interested in checking out our similar Destination Highlights: Croatia, Destination Highlights: Italy, Destination Highlights: Malta and Destination Highlights: Scotland blog series from previous months!
Plainsailing.com
Plainsailing.com