Why Book With Us?
Simple, straightforward process
Outstanding customer service
Friendly UK-based team
Pre-order food, kit or WiFi onboard
Join Our Mailing List
Yacht & Catamaran Charter in Kotor, Montenegro
Looking to sail from Kotor? Search to find and book your ideal boat, or read everything you need to know: prevailing winds, where to sail, how to get there and more!

You might be surprised to hear that sailing in Montenegro is one of Europe's best kept secrets. Far from languishing behind Greece and Croatia, the stunning scenery here has long attracted the very rich and the very famous, who appreciated the beauty and splendour of the coastline - and there are now three multi-billion-pound marinas in the region which are purpose built to cater for 100m+ super yachts. (Try getting one of the in a marina in Croatia, or a harbour in Greece!)
The magnificent rugged and unspoilt mountainous landscapes surrounding the 93km long Kotor bay fjord also add a sense of grandeur to sailing here, as does the presence of five-star cruise-ships in the area (they aren't hard to spot) which can make your yacht or catamaran seem incredibly tiny by comparison.
With fine Mediterranean weather, reliable winds (particularly outside of the Kotor bay area, when you can head along the coast to Bar and Ulcinj), immaculate facilities, and superlative views, Montenegro really is currently a wonderful secret, quiet and exciting place to go sailing. At the moment, we offer yacht or catamaran charters from Kotor, a UNESCO world heritage site which is almost as impressive as the mountains that surround it. If you want somewhere new to try sailing in, then Kotor and Montenegro is the place for you!
---
---
10
---
Sailing from Kotor
Surrounded by mountains and with crystal clear waters, Kotor bay is one of the most beautiful places to sail – particularly when the sun is shining and there are a few knots of wind in your sails. It feels majestic to wind your way along this gigantic fjord and out to the Adriatic or Mediterranean Sea.
There's so many beautiful old towns to discover – most over a thousand years old – but also remote islands to look over as you sail by, and brand-new sailing facilities which have been built over recent years to turn this place into something of a millionaire's playground.
We have exclusive rates on the local Imray Charts so you can easily plan your route before you go - with reliable winds, practically guaranteed sunshine, and the world at your feet, where will you choose to sail?
Top 3 things to see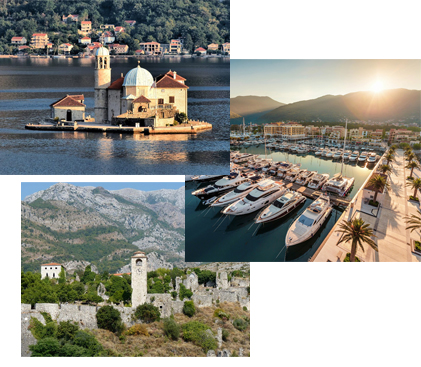 Check out our 6-day itinerary below, or if you're planning your own itinerary, here's our top 3 places to visit in the area:
Our Lady on the Rocks (5 nM from Kotor)
One of many buildings on seemingly remote islands, this island has been built up artificially by sailors throwing rocks into the sea in thanks for their safe return from sea, and is now adorned by a stunning church!
Tivat (14 nM from Kotor)
Once a small village on the side of a naval base, now a small vilage on the side of the biggest and most luxurious marina in the world (one of many new developments in Montenegro), with 6-star hotels, fine dining restaurants and a collection of superyachts that show you that this is a place to be.
Stari Bar (Bar old town) (45 nM from Kotor)
A short distance from the marina, but worth the effort: walking around this uninhabited old town from the 17th century is like taking a step back in time - they didn't even have electricity here, let alone wifi! You should also check out their 2,000 year old olive tree.

Suggested 6-day itinerary
Our six-day itinerary tries to take in it all, with a few days and nights exploring the Kotor bay, but also a few days getting out into the Adriatic, where the real wind is, to fill the sails as you wander down the Montenegrin coastline – accompanied by a spectacular mountainous backdrop all the while.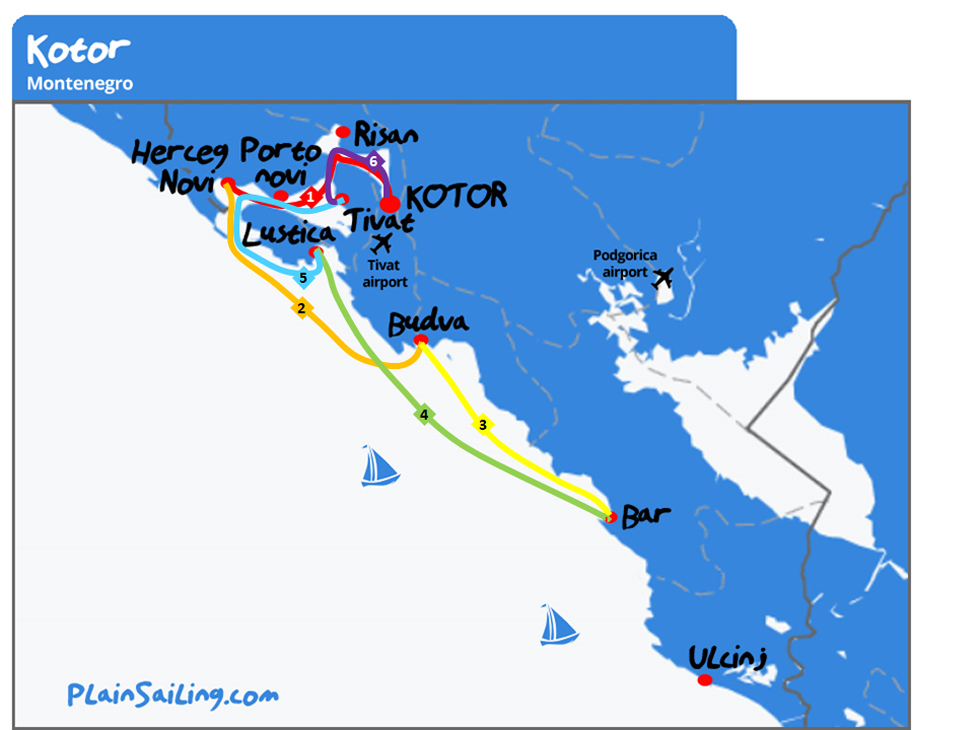 It's only a six-day itinerary because you're likely only going to check in late on Saturday afternoon, so, after getting provisions on board for the week ahead, you're unlikely to get much purposeful sailing done – so our itinerary sets off on Sunday morning, when you're fresh and raring to get the boat out!
You'll need to get the boat back to Muo marina on the Friday night, so that you can disembark first thing on Saturday morning to give the team time to clean and changeover the boat before someone else takes her on an another adventure next week. But there's plenty of sailing to be done before then.
This itinerary is 102 nautical miles in total, which means an average of 17 nautical miles a day – which, given that yachts and catamarans can go upwards of 5 knots (nautical miles an hour) means that it should only involve three or four hours of meaningful sailing each day, giving you time to sail at a more leisurely pace, or to spend time exploring the start and end point each day.
Day 1. Kotor to Herceg Novi – 14 nM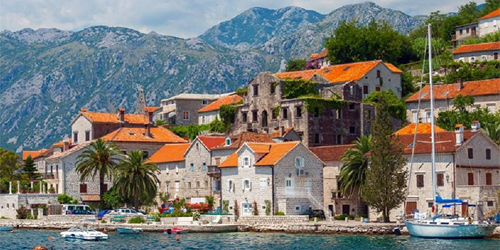 Let's get moving: get your provisions stowed, make sure everyone is on-board, and then it's time to slip the lines and make way. It's a very easy pull away from Marina Muo, and then we'll turn to port and turn our backs on glorious Kotor (until we return in glory in 6 days time…!)
We're heading towards the exit of the Kotor bay, following the mountainous walls of this fjord north then north-west, where a gap will suddenly appear, and we'll be able to head South-west to the Adriatic sea.
Heading north, you'll be able to gaze at beautiful Perast on your starboard side – this is or was the poshest part of old Kotor, where the richest people built palaces and summer houses to enjoy the bay. If you're thinking that it looks a bit Venetian, then you're not wrong – this was part of the Venetian empire for over 200 years, so they imported all sorts of culture and architecture. In fact, Perast was the very last village of the Venetian empire (outside Venice) to fall. You'll notice two islands with churches on as we turn to bear south-west – but don't worry, we'll come back for a closer look at those on the final day.
Pay attention to big cruise ships before you work your way down the channel, though they generally only travel before 9am and after 4pm, so they shouldn't cause us any problems this week. You'll be able to see Tivat on your port side, and the giant Porto Montenegro marina, but we're going to follow the coastline round on your starboard side, passing the equally monstruous Portonovi marina, and heading round to moor up in Herceg Novi.
Situated at the opening of Kotor bay, Herceg Novi (meaning 'new castle') is most famous for being the first line of defence for the area – you'll notice as you sail by that there are castles and fortifications galore, as the Ottomans, Venetians, Spanish, French, Russians and Turks (amongst many others) sought to protect the bay from intruders. Given the number of times it's changed hands, the fortifications can't have been all that successful.
Nowadays, it's a quiet tourist town which has a bohemian and arty atmosphere, with a number of mud spas, a good range of restaurants, and a livelier nightlife than you might expect.
Day 2. Herceg Novi to Budva – 20 nM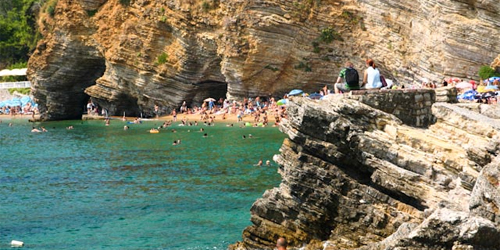 After a day of potentially light winds inside the bay, we're heading out into the Adriatic part of the Mediterranean sea to fill our sails. From Herceg Novi, you should be able to see a gap in the coast-line at South-south-west, which is where we want to squeeze through. From there, we're reaching with the prevailing wind as we travel along the coastline to Budva. But what a coastline!
Budva is the most popular tourist town in Montenegro - it's 35 beaches and 11km of fine sand luring in all the locals, but, nowadays, plenty of international tourists too. There's been a lot of recent developments for tourists – such as ugly hotels and high-rise flats – which have taken some of the sheen off the place, but this is also one of the oldest settlements in the whole of the Mediterranean, and the old town an interesting and exciting place to explore – parts of it are over 2,500 years old!
During high season, there's plenty happening in the evenings in Budva, and the land-lubbing tourists create a party atmosphere which is hard not to get infected by!
Day 3. Budva to Bar – 17 nM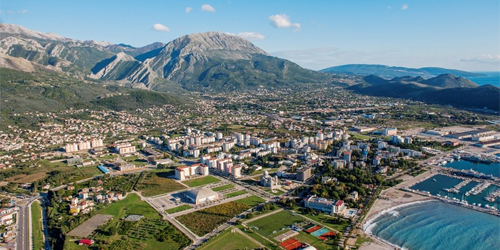 From the beaches and busy nightlife of Budva, we're heading down the coast for something a little bit different. After leaving the marina, we're heading south-west down the coast again, passing the picturesque island of Sveti Stefan (now a six-star luxury holiday resort – hence those big superyachts in the bay nearby) along the way.
If time is on your side, there's an option to stop at Petrovac for a lunchtime excursion (but it depends upon how much you drank last night, or whether you went to the beach or shopping this morning).
Petrovac is an idyllic village with a great beach and many, many old and beautiful buildings. It's very popular with the locals because there is a direct road through the mountains to get from the capital city of Montenegro, Podgorica, and it's a place where people come to de-stress. The church on the small island was hand-built by a sailor who was shipwrecked on the island one stormy night, as a 'thanks' to God.
After sun-bathing awhile, it's time to admire the unspoilt coastline and mountains from the boat again as we head down to our stopping point for the night – the important and historic town of Bar. It's important because it's Montenegro's main sea-port, and welcomes ferries and cargo ships from across the Med. It's historic because it has a fantastic old town – this one is slightly different that the other old towns though: it's been uninhabited for centuries, which means that it is a genuine snapshot of how life used to be here. Bar is also famous for producing the best olives in Montenegro, and for having an olive tree that is over 2,000 years old!
Day 4. Bar to Lustica – 17 nM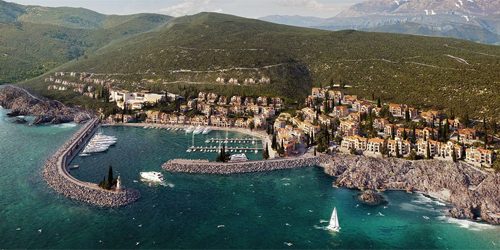 We've visited some fascinating old towns over the last few days, so now it's time for something more modern. You'll have heard that sailing in Montenegro was a bit of a millionaire's playground, but that won't really click until you see the amazing facilities first hand – so today we're returning back up the coast-line to Lustica bay.
From Bar, it's 17 nautical miles back in a North-westerly direction, likely beating up against the prevailing wind, and passing Petrovac and Budva along the way.
Budva is over 2,500 years old - the settlement at Lustica bay is just under 2 years old. It's a giant first-class development near Radovici, which will see the building of roads, houses, hotels, shopping centres, a golf course, a brand-new marina (with all the trimmings), and all sorts of other things a village needs. All from scratch, and on the basis that this is one of the most beautiful bays in the whole of Montenegro. The marina opened in July 2018, and will be fully functioning for the 2019 season.
Lustica bay is a luxurious if slightly artificial place to spend the night, and to mix with the well to do sailors of Montenegro.
Day 5. Lustica to Tivat – 16 nM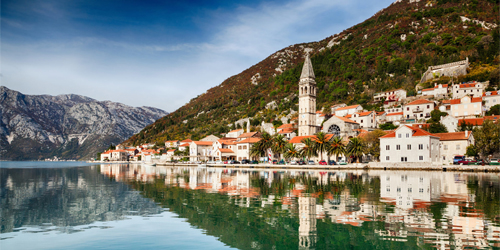 Today is a sail of 16 nautical miles, but, oddly enough, you can make the same journey from Lustica to Tivat on foot in about an hour, because it's only about a 5km walk. Walking is no fun, however, so we'll go by sea. We'll head Southwards out of Lustica bay, then follow the headland round on our starboard side, and re-enter the Kotor bay area, passing the crazy circular Fort Mamula (or Lastavica) on the way in.
Fort Mamula takes up 90% of the island and was built in 1853 by the Austrians. Since then, it's been a fort, a military base, and, during World War II, a concentration camp for opponents of Mussolini's fascist regime. After being abandoned and uninhabited, in 2016 planning permission was granted for a developer to transform it into (another) luxury resort, complete with multiple restaurants, a beach club, a spa and a nightclub.
Following the coastline round, we're heading back past Herceg Novi and East towards Tivat, where we'll overnight in another massive development – Porto Montenegro marina, once a naval marina, now markets itself an 'exclusive marina and yachting paradise'. It has space for over 450 boats, and also boasts the worlds longest berth, able to accommodate superyachts upto 250m in length (if they're still called superyachts when they get to that size?). It was built in 2009 and people flock here to be part of the 'in' crowd, and it has a range of fine-dining restaurants, but it is also under a kilometre from the town of Tivat.
Tivat is a more traditional seaside town, with bars and restaurants along the sea front, narrow streets, and a sleepy feel. It was originally a splendid palace, which Queen Teuta had built after fleeing south from the advancing Roman armies (who eventually took Tivat as well). The area has developed since then and now has churches, piazza's, beaches, coves and a botanical garden to check out.
Day 6. Tivat to Kotor – 8 nM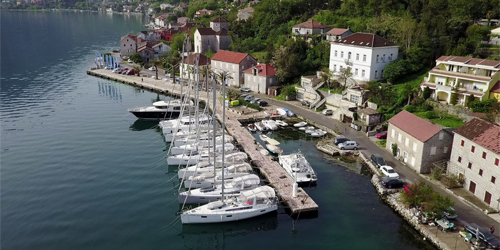 Oh no! It's the last day of the itinerary, which means that it's nearly the end of the holiday. Hopefully you've had a brilliant week away from work, all the crew have gotten on well together (and there is already talk of going sailing again next year), and you've fallen in love with sailing in Montenegro – either for the spectacular views and magnificent old towns, or for the luxurious modern marina developments, or both!
Today, the sailing is only a short hop around the headland from Tivat to Kotor, which means that, if you're inclined, you can bimble around the bay a while – some of the other towns around the bay are worth cruising by, there is the Solila nature reserve and bird sanctuary, or you could go and check out Portonovi, the latest multi-million-pound marina development.
From Tivat, you need to head northwards up the fjord, through the narrow channel, to get to the final part of the Kotor bay. Once you're through the channel, you'll pass 'Our lady on the rock' (the church with the blue dome). Legend has it that this is an artificial island which has built up over time – it's considered good luck to throw a rock at or on it to thank God for getting home safely. It started as a pile of pebbles from grateful sailors, and has slowly built up what it is today.
From there, head east and south back to marina Muo, where you should berth the yacht one last time. Tie off the lines, then high-five the rest of the crew for a job well done!
The yacht charter company will arrange for the boat to be refuelled (but you'll have to pay the bill), and will inspect the hull tonight, so it's important you get the boat back to the marina before 6pm – but you won't have to disembark until 9am on Saturday morning. If you've not yet had chance to explore Kotor, then now is a great time to do that – the view from the castle will seem especially poignant now that you've conquered the sea below.
And then sadly it's time to head back to the airport. When you get home then you can head to PlainSailing.com and start planning your next adventure!
---
Sailing Conditions
What temperature will it be?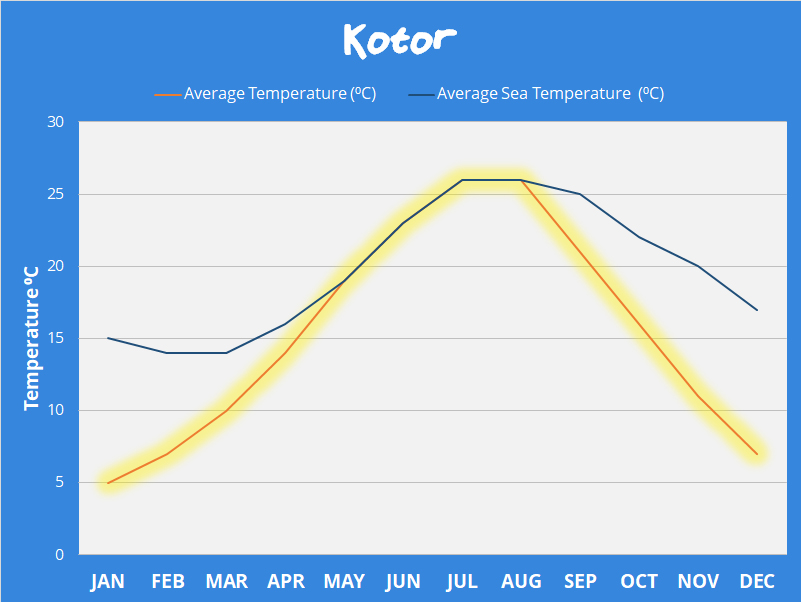 Being in the Mediterranean, you'd expect Montenegro to have hot summers and mild winters, and this is vaguely true of the country in general. Kotor, however, as a city nestled at the end of a fjord and at the foot of giant mountains, gets a little less hot in summer, and little colder in the winter, than you'll find, say, in Croatia to the North, or Greece to the South.
Whilst snow and ice is not common during winter in Kotor, you'll almost certainly need a thick coat and a pair of gloves, with temperatures dropping to around four or five degrees.
Things start to warm up from May, when temperatures hit the high-teens, but the sun doesn't really get going ¬until July and August, when the mercury gloriously hits over 25 degrees, and you can expect over ten hours of sunshine a day. It's a beautiful temperature to sail in, and the mountain air and gentle breezes help to ensure that it doesn't feel muggy or stifling.
Temperatures begin to drift from mid-September, but it's still nice temperatures to sail in until the rainy season commences in mid to late October, and winter comes back around.>
How warm is the sea?
The sea near Kotor is less affected by the mountain atmosphere, and, for much of the year, the temperature of the sea is warmer than the air temperature as a result. Even at the height of winter, the sea doesn't drop below 15 degrees – which will feel cool when you dive in, but is about as warm as the sea gets in the UK during the summer.
The sea starts to heat up with the sunshine, and hits about 20 degrees (a refreshing temperature) from May, before reaching 25 degrees in July and August, when the sea will have a similar temperature to an indoor swimming pool, and diving into the crystal clear water will be a delicious way to cool yourself down.
What is the wind like?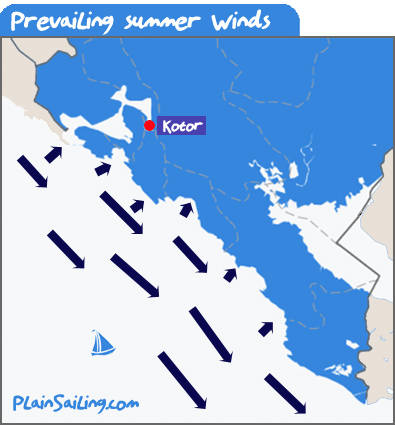 Sailors head to Kotor for the stunning scenery, the picturesque bays, historic towns, and top-drawer sailing facilities – all of which make for an outstanding holiday on a boat.
Being both inland and surrounded by mountains means that there's not a great deal of wind in Kotor bay – there will still be some to play with, but you're not likely to get much of an adrenaline rush, and you're unlikely to ever have to need to get all your crew sitting on one side of the boat. Incidentally, there's no real prevailing direction for the wind in bay.
Once out in the Mediterranean in the summer, however, you can expect decent Force 3 to 4 winds heading up and down the coast. If you stick close to the mainland, you'll notice the mistral winds which race towards land during the day (the sun heats the land, which heats the air above it, which, in turn, rises, and sucks air in from over the sea), and out to sea at night. Further out from the coast and you'll meet trade winds which rush down the Adriatic towards Greece, and which will ensure you can make quick progress South, before beating your way back up North towards Kotor.
In winter, there's no such thing as a prevailing wind, and you're as likely to meet cold winds from the Alps and the Dolomites as you are the warm tropical stormy winds which arrive from the South of the Med. Most weather systems pass in a few days, so there is still plenty of joy to be had in sailing in the winter months.
What is the Current Weather in Kotor?
If you're off sailing in a couple of days, you might be interested to know what the 7 day forecast is - our handy widget below should give you a good idea, though once you're out there we recommend using windguru.cz. 
---
Our Guide to Kotor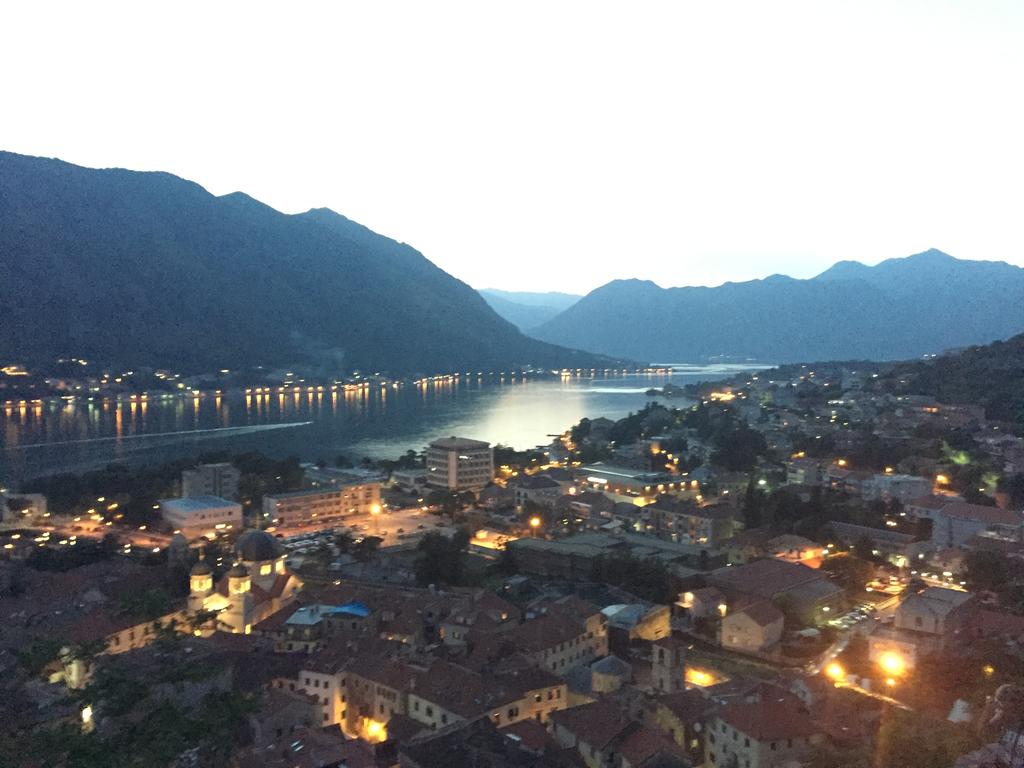 Kotor is a majestic old city which is over two thousand years old, and has a brilliant and vast history. The city itself is now a UNESCO world heritage site of absolute wonder in its own right, but couple that with the fact that it's located at the base of the Lovcen and Orjen mountain regions, and at the end of a 93km fjord system, and you can see why it's regularly listed as one of the most beautiful places to visit in the world.
The old town, gated behind massive defensive town walls, is a place of cobbled narrow streets, where cars can't get, and where it's possible to get lost even if you've made the same journey dozens of times before. History also gave them a vast castle high on the mountain above the town - where the views are superb - numerous important churches and cathedrals, a crazy ladder or staircase road which goes directly over the mountain and to the capital city of Montenegro, and the wonderful Our Lady on the Rocks – a legendary religious monument on an island in the water just outside the town.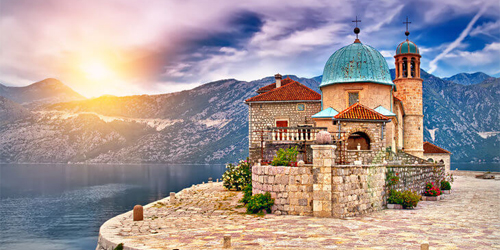 Wherever you look, there is history and elegance, and it really is a shame that so many people don't know about this place – but since getting independence in 2006, tourist interest in Kotor and wider Montenegro is growing rapidly.
If you're in the mood for a bit of exercise, there's 1,355 steps from the town to the Castle of San Giovanni on the hillside above – the castle isn't much to write home about, but the views from up there over the whole of Kotor bay are something else, and totally worth the perspiration.
Further afield, the village of Perast, around the bay, is a smaller and even older version of Kotor, and, should you want to see the Our Lady on the Rocks up close (you should get a good enough view from your own boat as you sail by). Legend has it that the island has been slowly built up over thousands of years: the exact history is sketchy, but local sailors and fishermen would throw a rock in the water at that point to thank God for getting them back to Kotor safe and sound. Slowly a man-made island was made, and in the 1600's a church was built on it and dedicated to Our Lady.
Failing all that, Kotor is a great place to wander around aimlessly, people watch, grab an ice-cream, and to relax.

Local Events / Festivals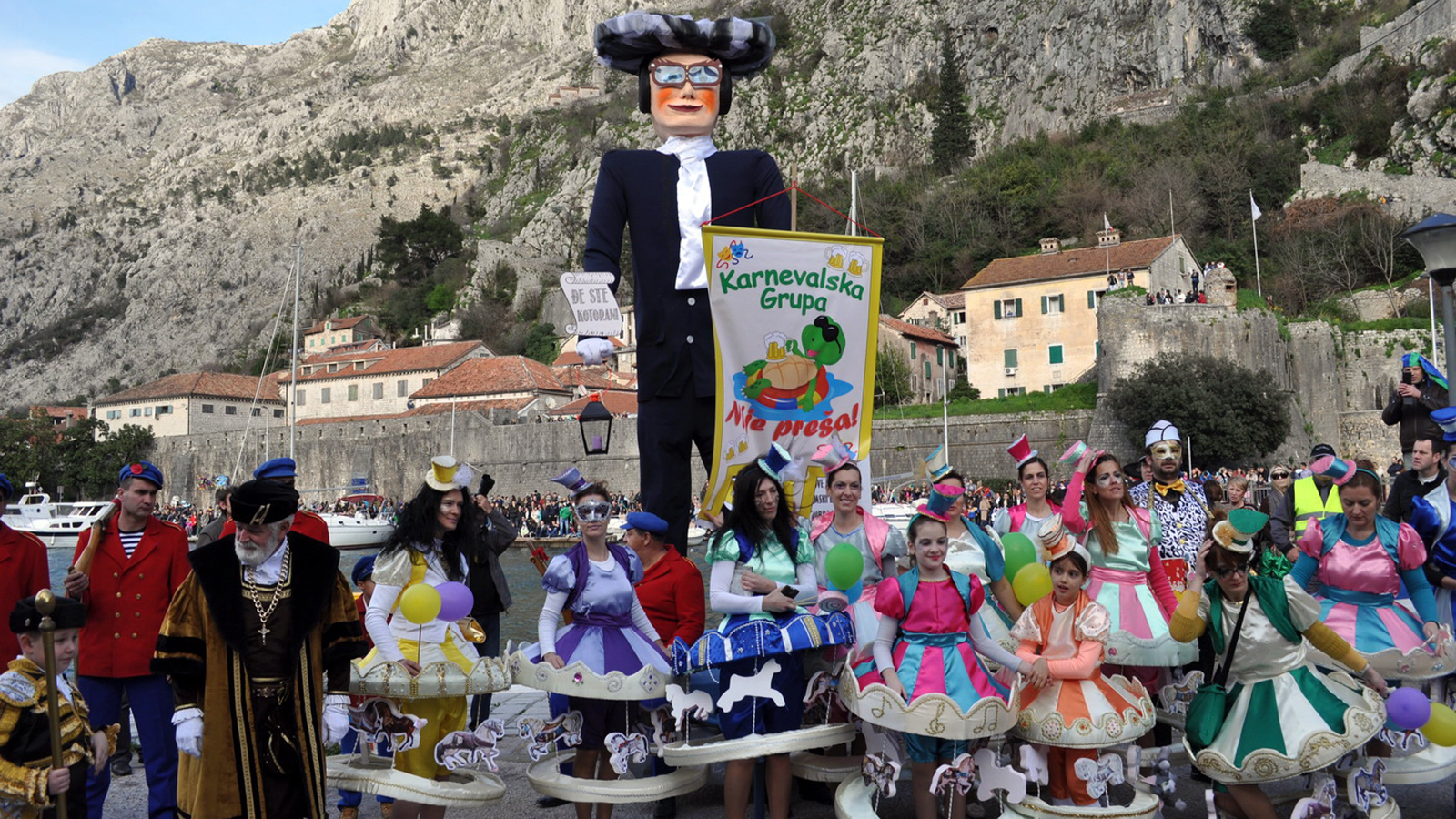 Kotor has two thousand years' worth of history, so it's probably not surprising that it has a whole host of quirky local festivals and celebrations to go with it. Aside from Easter and Christmas, when everything goes crazy, here's some of the big events of the year:
In January, the year kicks off with the celebration of the feast day(s) of Saint Tryphon, when the locals engage in folk dancing and singing, re-enactments of famous stories of folklore, and choir singing.
Later, in February, the Kotor carnival sees the masked parades around the old town, followed by a giant town ball. The carnival is the biggest in Montenegro and people flock from all over to come and join in the fun.
The events start to come thick and fast as we enter the summer season – there's a festival of films set underwater (which started as a cynical ploy to highlight the rich sealife in the Montenegrin waters, but has evolved into a genuine display of the best underwater cinematography in the world today), the Kotor Art festival (a celebration of all of the arts), the Kotor festival of theatre for children, an international Fashion festival (featuring some of the hottest new designs from Italy's most famous designers), and the Kotoro summer fiesta's.
There's also a summer carnival which lasts a week in August, and the Bokeska noc or Boka night celebrations in late August when boats of all shapes and sizes fill the bay with processions, lamps and decorations, followed by some amazing fireworks.
If you're a music lover, you could try the Refresh festival n August or the local 'clapper' music festival, which sees local groups who sing and clap spreading their melodies through the city.
Finally, there's New Years' Eve celebrations for three straight days in Kotor, with bands and other entertainers performing live in the town squares, so that is also another great time to go!

Eating
Despite being only a tiny City (by comparison to London, or even Manchester) Kotor still manages to have over 100 restaurants, which means there should be something to please everyone. Good local cuisine includes fish, as well as pasta and pizza (this area was part of the Venetian empire for over 200 years, so there is a bit of a shared history with Italy). If we're in Kotor, we try:
Tanjga – A great place to sample the local flavours, and at locals' prices. This place is THE place to go for classic grilled meats (their chicken is the best), is usually mad busy, and serves generous portions at great prices (Suranj Bb, Kotor).
Galion – A gem of a restaurant which is located on the sea-front and offers spectacular view of the sea and the old town whilst you eat. It's a fine dining restaurant, with some outstanding seafood dishes, and which is pricey for Kotor, but cheap compared to how much anything even half as good as this will cost you back home. Recommended (Suranj Bb, Kotor).
Il Gelato di Salvatore – based inside the old town walls, this place serves the best ice-cream in the whole of Kotor, if not Montenegro. Our favourite is the Sun flavour, but Pomegranate is also pretty special! (Trg od oruzja, Kotor).

Nightlife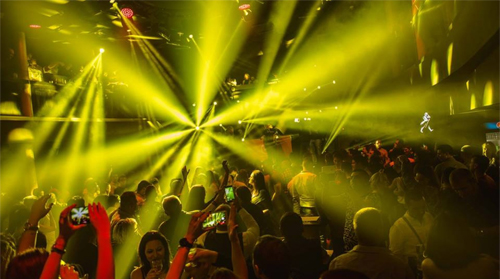 With so many tourists and holiday makers, it's no surprise that Kotor comes alive when night falls, and there's a great mix of bars, restaurants, jazz café's and even thumping nightclubs to find – some are obvious and in the main squares, but you're almost as likely to find a brilliant bar down one of the seemingly dead looking streets in the old town. There's a whole host of bars along the seafront near Muo, but here's a few places to head to in Kotor:
Citadela – The best thing about this place is its location – on top of the great city walls, and therefore offering great views of Kotor one way, the sea another, and giving you a sense of just how well defended the city was in the olden days! They do a good range of drinks, but the food isn't worth gambling on (Stari grad 433, Kotor)
The Old Winery – It turns out that the reason you've never heard of Montenegrin wine is because it's so good that they don't export it. Sample it for yourself at this classy wine bar in the old town (Zanatsla 483, Kotor).
Evergreen – If you're in the mood for some smooth easy-listening jazz and some fine cocktails (at reasonable prices), then Evergreen is probably the bar for you. The perfect place to relax, catch your breath or to end the evening (Stari Grad 422, Kotor).
Maximus – No night in Kotor is complete without heading to the monster club 'Maximus' which is the biggest and best nightclub in Montenegro, has a range of bars and has been the venue for big name DJ's like David Guetta and Fat Boy Slim. The dancefloor won't fill until 1am, but they sure know how to party in Kotor! (Stari Grad, Trg od Oruzja 232, Kotor).

Places to Stay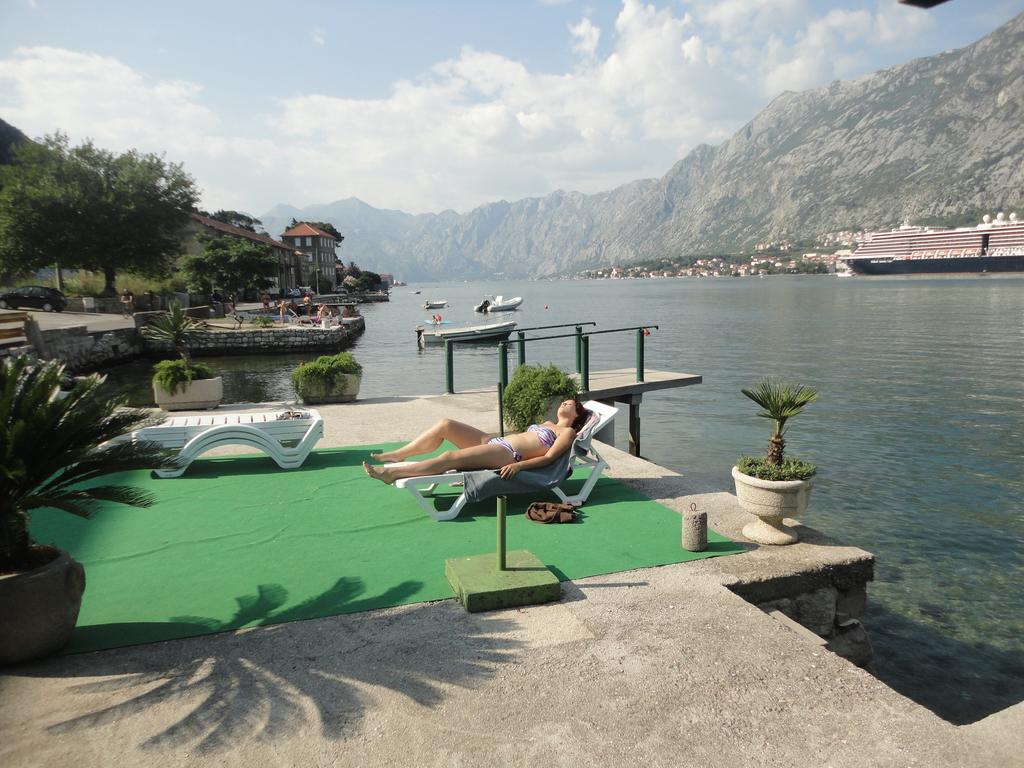 Depending upon how your flights work out, you might need to find some accommodation on dry land before or after boarding your boat. We'd recommend these amazing places in Kotor and near the marina:
Hotel Villa Duomo **** – c. £110 for a double room – A four-star hotel with all the trimmings, in the heart of Kotor. Immaculate service, elegant rooms, and a fine breakfast will help to make a brilliant start or end to the holiday.
Guesthouse Nikoleta - c. £38 for a double room – a small family-run guesthouse which offers rooms with wifi and terraces as standard, and at exceptional value – particularly given it's incredible location right in the centre of the old town. Recommended.
Guest House Muo - c. £38 for a double room suite – The best guesthouse in the village of Muo, where our base marina is located (which is about 3km from Kotor city centre). There's fine views back over the sea and towards Kotor, and a private jetty for sunbathing whilst waiting for your boat to be ready!
---
Marina Details
Marina Muo, Kotor
Muo marina is located 3km from Kotor, which is about a 20 minute walk around the coast. It's only a small marina (especially when compared to some of the newer marina's in Kotor bay, which are purpose built for hosting superyachts), but it has all the right facilities (water, electricity, toilet facilities), as well as amazing views, and is a brilliant place to start a week of sailing in the area. It also benefits from being on the right side of the channel for avoiding the large cruise ships.
Nearest supermarket
Muo is only a small village, so the nearest supermarket of any size is in central Kotor – if you follow the coast road back towards Kotor, you'll come across a large 'Idea' after about a 20- minute walk, which is open till midnight, and which should be able to sort you out with everything you need – though you'll need a rucksack or a taxi to get it back to the marina.
AWAITING MARINA MAP
| | |
| --- | --- |
| Address: | Marina Muo, Jadranska magistrala 47, Muo, Montenegro |
| Long / Latitude: | N 42° 26. E 18° 45 |
| Telephone: | 00382 693 358 559 |
| Walk-ashore berths: | 25 |
| Facilities: | Electrical supply, Fresh water, Fuel: Diesel (can be arranged), Fuel: Petrol (can be arranged), Parking, Pub / Restaurant, Shop / Supermarket, Showers, Toilets, Telephone, Visitors berths |
Marina Reviews
"The marina is a small and cute, but they looked after us very well." - Mike P
---
Getting to the Marina
Loading Map Co-ordinates...
The easiest way to arrive in Kotor is to land at Tivat airport, which welcomes flights from across Europe (including Manchester and London in the UK), with flights more frequent during the summer months. From the airport it's a short 10-15 minute transfer to the marina – which we can help to arrange. (The journey is also possible by taking an airport bus to Kotor city centre and changing onto another public bus, but buses are infrequent and the taxi's are almost as cheap).
The main international airport in Montenegro is Podgorica, which is a 90 minute transfer away from the mountains and fjords of Kotor. It's better connected, may have better flight times, and we can help to arrange transfers if required.
An alternative to landing in Montenegro is to land in nearby Dubrovnik and make your way to Kotor from there. Whilst this is possible, be aware that this may not be the quickest route, as there is often a 2 hour delay at the border to get in to Montenegro.
Incidentally, UK and EU citizens do not need a visa to enter Montenegro on holiday for stays of less than 90 days, and the local currency is the Euro (even though they are not formally part of the Eurozone, yet).
This page last updated: August 2018
We do our best to keep this information as up-to-date and accurate as possible, but obviously we can't be everywhere at once. If you are aware that any information on this page is incorrect, please let us know by emailing marina@plainsailing.com.
---
---