Find a Boat
LIVE
Pricing & Availability
Search NOW
Greece Yacht and Catamaran Charter
We have incredible yachts and catamarans ready to sail from 10 bases across Greece.

Sailing around Greece
With clear waters, blue skies, beaches, almost perennial sunshine, and over 1,400 islands to explore, it's no wonder that Greece is the widely regarded as the best sailing holiday destination in the World.
Famous for its ancient history as being a global super-power a couple of thousand years ago, and leading the way to civilisation, Greece has a long and glorious history of boats and sailing: each island has a harbour or marina with all the facilities you'll need, and there are countless anchorages and beautiful bays to stop in - some so far from the beaten path that they don't have roads or cars yet, and where you're unlikely to meet any other tourists.
Arguably the toughest part of sailing in Greece is working out where to sail?! Wherever you go, you'll encounter pretty old towns, welcoming marinas and jaw dropping scenery. And wherever you decide, we can help you find and book your ideal yacht or catamaran.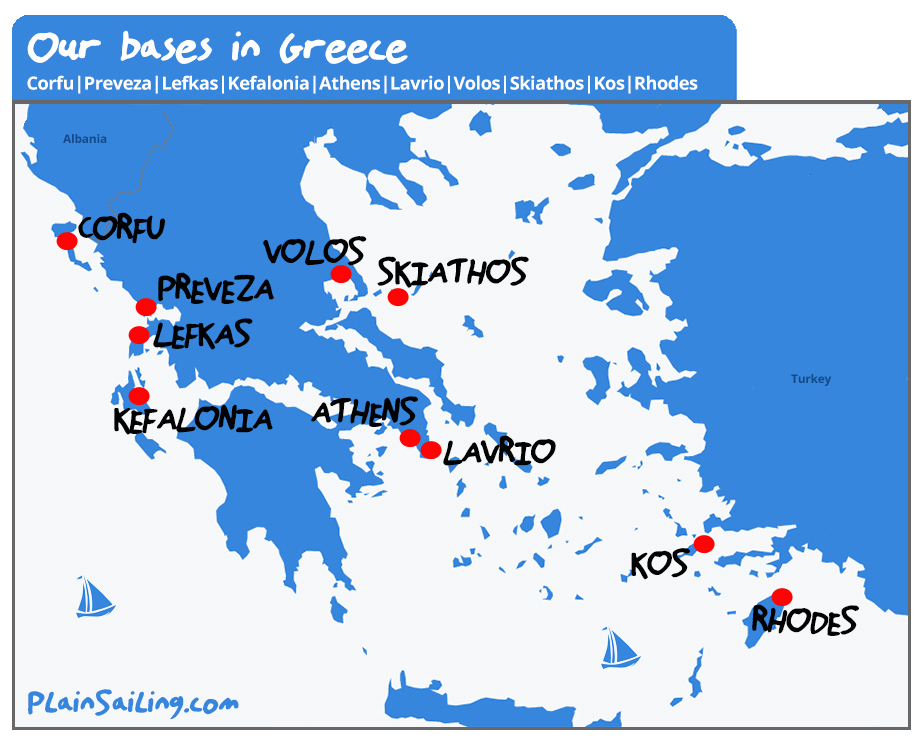 SAILING RATING:  Beginner / Intermediate - Navigation is easy and by line of sight throughout Greece, and the waters are non-tidal. The Ionian islands and Saronic bay offer simple, sheltered sailing conditions which are ideal for beginners. Intermediate sailors will appreciate the stronger winds of the Cyclades or Sporades islands, and, stronger still - particularly in August - are the winds around Rhodes and Kos in the Dodecanese islands, making for some challenging, but pleasurable, sailing, which is better suited to experienced sailors.
 WHEN TO GO:  The sailing season starts in March and the weather is fine right through to the end of October. Peak season (and when charter fees are most expensive) being in July and August, when the sun is also at its hottest.
 MINIMUM QUALIFICATIONS:  You'll need an ICC (which you can convert from an RYA DaySkipper (or equivalent) or above to charter a boat in Greece. If you're not qualified, we can find you a professional skipper.
 VISA REQUIREMENTS:  Greece is part of the EU, which means UK and EU passport holders can travel there at will. US and Australian passport holders do not need a visa unless planning to stay in Europe for longer than 90 days.
 GETTING THERE:  There are a number of airports right across Greece, and many are well connected to the rest of Europe, particularly during the summer.
The best connected airport in Greece is Athens International airport, from where you can drive 30 minutes West to sail from Athens to the Saronic island, or 30 minutes South to sail from Lavrio to explore the Cyclades. In the Ionian, Corfu airport is just a 20 minute drive from our marina in Corfu, and it's a within a similar distance from Preveza airport to Preveza and Lefkas. Volos airport is just a 20 minute drive from Volos, and there are even shorter transit times if you land at the main (and only) airports on Kefalonia, Skiathos, Rhodes or Kos.  We can help arrange transfers to or from the marina, as well as helping you get provisions on board if your flight arrives late at night.
 
Charter a Yacht or Catamaran in Greece
We can help you find the ideal yacht or catamaran for your sailing holiday in Greece. We only work with the very best professional charter operators in the area, who we have met, know, and who we trust to give you the same outstanding customer service as you'll get from PlainSailing.com.
Use the pink search box above to look for boats for yourself - they have live pricing and availability and you can filter the results to find your ideal boat - or start a Live Chat with our award-winning bookings team for help, advice, or anything else!
 
Where to sail in Greece
 CORFU (North Ionian islands) 
Ideas of where to sail: The Ionian islands are widely regarded as the most beautiful in the world, and the irresistible Paxos and Antipaxos are the absolute jewels in the crown, so head there and enjoy the stunning scenery, beaches and wildlife! You can get there via the colourful picture-postcard town of Parga, the fishing village of Petriti, and the fortresses of Corfu!
 PREVEZA, LEFKAS, and KEFALONIA (South Ionian islands) 
Ideas of where to sail: As well as perfect sailing conditions, the South Ionian islands offer peace, tranquillity, and real beauty - from the white cliffs and pine forests near the village moorings of Sivota, the relaxing beaches of Meganissi, or the ampitheatrical harbour of ancient Ithaki. Beware that some people fall in love with Kefalonia (the home of the Greek legend, Odysseus) and end up moving there…
 ATHENS (Saronic islands) 
Ideas of where to sail: From Athens, you're well-placed for heading to arguably the best place in the Med: the idyllic island of Hydra, where they still don't have cars, and where the atmosphere is something else! There's also Aegina (famous for its pistachio nuts), Poros (a town which is split by the sea), Methana (with its volcanoes and thermal springs) and the narrow streets of medieval Agistri.
 LAVRIO (Cyclades islands) 
Ideas of where to sail: There's so much to explore that even three weeks isn't long enough to properly explore the Cyclades islands properly! In a week from Lavrio you can sail to wonderful Mykonos, visit the ancient Greek ruins at Delos, bathe at the instagrammable Kithnos sandbar, or take a pilgrimage to Tilos, where you're supposed to crawl from the marina to the hilltop national Cathedral on your knees. Further afield, there's Santorini, Naxos, and so much more…
 VOLOS and SKIATHOS (Sporades islands) 
Ideas of where to sail: The Sporades offer the cleanest and bluest seas known to man, and are famous for having the best beaches in Greece - which is saying something! You can sail to majestic Skopelos (inspiration and filming location for Mamma Mia!) or get off the beaten track in the remote and unspoilt Alonissos national marine park to spot dolphins, seals and turtles.
 KOS and RHODES (Dodecanese islands) 
Ideas of where to sail: The Dodecanese is full of surprises. Here you can find the site of one of the ancient wonders of the world (the Colossus of Rhodes) as well as the cave where Saint Paul wrote his biblical book of revelation! There's also imperial palaces, ghost towns, volcanic islands, fantastic beaches, authentic villages, the finest sponge, best olive oil, and unforgettable views.
 
Cost of a Sailing Holiday in Greece?
Prices change depending upon what sort of boat you are chartering, and when you would like to charter, and yachting offers great value for money because the fee includes a full-day activity, a means of transport and your overnight accommodation!
Charters are normally in periods of a week, from Saturday (check-in at 5pm) to Saturday (check-out at 9am), though you're required to be back at the charter base on the Friday evening. You can charter a 3-cabin yacht for as little as €950 / week (including end cleaning), 4-cabin yacht from €1,200 / week, or catamarans from €2,200 / week - use the pink search box for live prices and availability. 
|   | May / Oct | June / Sept | July / Aug |
| --- | --- | --- | --- |
| 3 Cabins | €950 | €1200 | €2200 |
| 4 Cabins | €1250 | €1600 | €3100 |
| Catamaran | €1500 | €2000 | €3500 |
 
In addition to the charter fee, there is an end-cleaning fee to be paid, and you'll need to leave a security deposit on check-in (similar to a hire car, and usually placed as a pre-authorisation on a credit card).  You'll aso need to think about Mooring fees for any night you spend in a Marina.
You can also add transfers, an outboard motor, early check-in, security deposit insurance or other extras to your booking (if they are not already included) for an additional fee.  We can also arrange for a Skipper, Hostess or Chef to be on board - in Greece, these normally cost an average of €1,190 per week, excluding tips.
 
Our Greek Sailing Destinations
Find out a lot more about each of our bases in these comprehensive destination guides, which also include details about suggested sailing routes, weather conditions, and recommended hotels, amongst a host of other useful information:
 
Tags: Yacht Charter Greece, Greek Yacht Charter, Chartering a yacht in Greece, Renting a Catamaran in Greece, Greek Sailing Options, Catamaran Charter in Greece, Bareboat Sailing Greece, Skippered Yacht Charter