Why Book With Us?
Simple, straightforward process
Outstanding customer service
Friendly UK-based team
Pre-order food, kit or WiFi onboard
Never beaten on price!
Join Our Mailing List
Sign up now to receive the latest news, offers and competitions!
Croatia Yacht Charter
We'll help you find the right Yacht Charter in Croatia! We have yachts and catamarans ready to sail from Split, Dubrovnik, Zadar, Kastela, Trogir, Biograd, Jezera and Pula.
---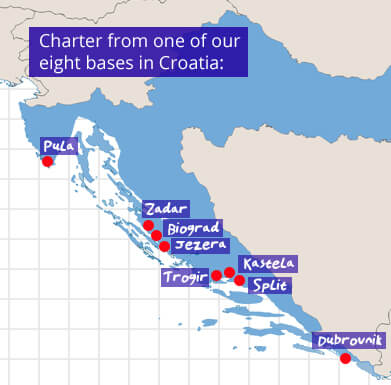 Looking to Charter a Yacht in Croatia?
Charter from our trusted partners (who we have met, know and trust) and we can guarantee we'll have the best price.  Plus we're UK based, so if you have any questions just give us a call!
Sailing around Croatia
With a coastline over 1,700km long, countless splendid islands to explore, and dependable sunny weather (it is as far South as Italy), it should come as no surprise that it ranks alongside Greece as one of the go-to places to head in a yacht.  We can sort your sailing holiday out for you - whether it's a Bareboat Yacht or Catamaran Charter, or one with a fully trained Skipper (and even a chef!)
And whilst sailing has been popular in Greece for eons, sail tourism is relatively new in Croatia – meaning that a lot of the facilities are newly developed, and many more are already on their way. New facilities often means wider berths for mooring, new bars and restaurants on-marina, and, often, free wifi. The only real downside to Croatian yachting versus Greece is that mooring fees are a little bit higher in Croatia than Greece.
Choosing Where to Sail
You can use our handy 'Sailing in the Med Decision Tree' to find out where might suit you best! :)
You can charter a yacht from a number of places along the Croatian coast, including Zadar (Zadar Yacht Charter) an intriguing city which was founded by the Romans and Venetians, and which still has an ancient Roman forum – in the North, and Dubrovnik (Dubrovnik Yacht Charter) in the South – which has a spectacular Old Town which is currently most famous for being the set of Game of Thrones – as well as a number of marina's based around Split (Split Yacht Charter), the capital of the country, or in lively pre-historic city of Pula (Pula Yacht Charter).
Zadar, Split, Dubrovnik and Pula are all easy to arrive at by air, with all four offering scheduled and charter flights to the UK (including some budget airlines) throughout the year, and with multiple daily flights during the summer season, when temperatures can hit upwards of 35 degrees.
If you charter near Split, the sheer number of yachts you will see heading out towards the islands of Brac and Vis on the day after changeover can be quite breathtaking – there are literally hundreds of boats, all making for the party island of Hvar, or the secluded and exclusive bars at Pakleni Otoci: both scenes of beauty which are not to be missed.
What Next?
We have LIVE, real-time availability on all of our yachts and catamarans in Greece - so the next step is simply to search to find the right one! 
We use actual images of the yacht you will be chartering wherever possible, and only work with quality yacht charter partners, so you can rest easy that the ycht will be everything you expect it to be.  You can also use our filters to make sure the yacht has everything you need, from bowthrusters to wifi and autoo-pilot to air conditioning!  If you have any questions just give us a call!
Tags: Yacht Charter Croatia, Croatian Yacht Charter, Chartering a yacht in Croatia, Renting a Catamaran Croatia, Dalmation Coast Sailing Options.