Find a Boat
LIVE
Pricing & Availability
Search NOW
https://plainsailing.com/blog/how-to-search-for-your-ideal-boat
How to search for your ideal boat
You can get get better, faster and more comprehensive results if you use our search tool to filter the options to find your ideal yacht or catamaran
We have LIVE pricing and availability!
We've tried to make our website as easy and intuitive to use as possible, and we have live pricing and availability for every boat in the Med, but you wouldn't believe the number of times we get requests for quotes via our online form or email – you can find out the exact same information just by using our pink search tool to find a boat!
In fact, you can find out a lot more information if you search for yourself – if we send quotes by email, we tend to only send two or three options, whereas you're able to see all the options if you search for yourself.
And you can filter the search results to hone in on exactly the right boat for you – from selecting the age or length of the boat, the number of cabins, or even whether it's got a battened or furling main-sail, electric toilets, bow thrusters, or bunk cabins.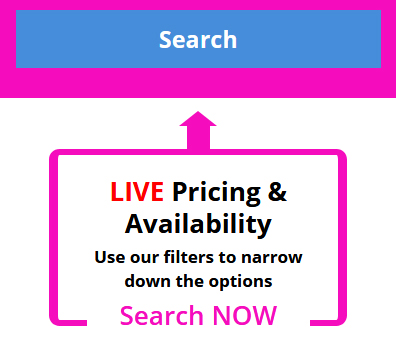 You can also find out which boats you'll be able to also hire an SUP or Kayak with, or even things like radar.
We like to think it's all so simple, but maybe we're missing something, so, just in case you're one of those people who send us an email, check out our guide to 'how to search for your ideal boat' below!
Use the Pink Box
If you have the dates you'd like to charter a boat, then you can use our pink-box search tool! Add the country (and base, or area, if you have one in mind) you'd like to go sailing in, select whether you'd like to charter a yacht or a catamaran, whether you want the boat with a skipper or bareboat (see the minimum qualifications you'll need to charter bareboat), and then click 'Search'.
Filter Your Results

So far, so easy, but here's the clever bit: our cutting edge filtering tool is the most comprehensive search tool on the web. Click on the 'Filter by' menu to set your ideal parameters, and the search will be updated to show you which boats match your criteria. You can filter by Cabins, Berths, Length, Bathrooms, Age, Price and Features.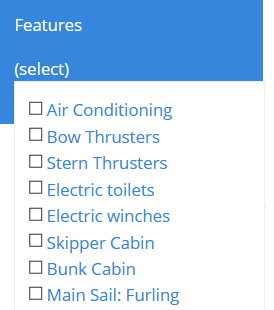 Click on 'Cabins' and you'll get a slider showing you the current possible options (usually from 2-6 cabins). If you want to find yachts with only 5 cabins, click and drag the left-hand red circle to 5, and then click and drag the right-hand circle to 5 too. The number of boats which match the criteria is shown on the left, and the prices for each boat are displayed down the page.
Click on 'Features', and a tick-list appears. Simply choose the features you cannot live without – whether it's air conditioning, bow thrusters or radar – and the search results will update to only show the boats which have that feature.
Once you've found your ideal yacht, it's just as easy to click through and make the booking – click on 'more details' and then 'Make Booking'.
Does that all make sense? I hope so!
Of course, we'll still help you if you contact us via email or the online form, but you'll get better, faster and more comprehensive results if you use our search tool first.
Plainsailing.com
Plainsailing.com