Find a Boat
LIVE
Pricing & Availability
Search NOW
https://plainsailing.com/blog/yacht-v-catamaran
Yacht v Catamaran
Wednesday, 18th May 2022
What are the main differences between sailing a yacht and a catamaran?
If you're new to sailing (or even if you're not) then you might be wondering what the main differences are between sailing a yacht or a catamaran – here's a quick summary, from the obvious to the nuanced:
Shape / Number of hulls
The main difference is the shape of the boat: a yacht or traditional sailing boat has one hull (the bottom of the boat) which sits in the water, but a catamaran is a 'multi-hull' so has two hulls or points of contact with the sea, with a platform across the top which joins the two hulls together into one boat shape. The fact there are more hulls on a catamaran is the key difference between the boats, and everything else below derives from this.
The two hulls also mean that less of the catamaran is below the water, meaning that they can sail in shallower waters – as a result, in some parts of the Caribbean, they pretty much only charter catamarans.
Sailing Experience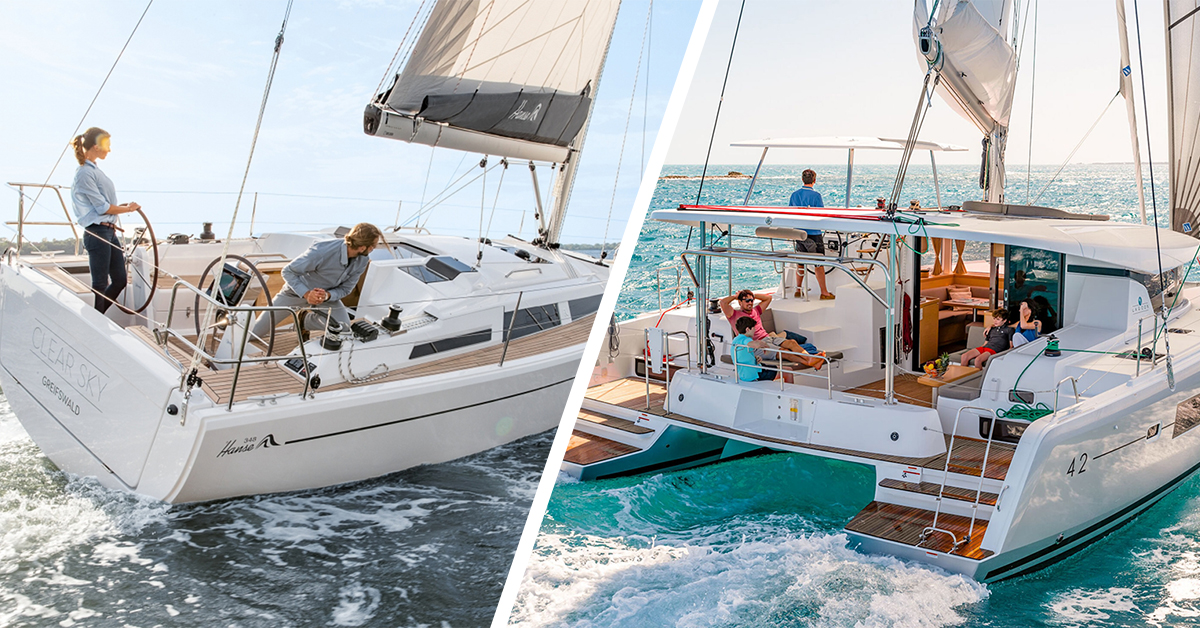 Sailing on a yacht can be a thrilling experience, particularly when you get up to speed and the boat gently heels over and you can feel the wind rushing through your hair. On a yacht, you are nimble, can change direction quick, and can sail closer to the wind than in a catamaran (so yachts are normally faster than catamarans when sailing upwind).
Whilst you'll get more adrenaline on a yacht, the flip side of the sailing experience is that a catamaran, precisely because it has two hulls, is better balanced – so it is a lot more stable to sail on. It will move a little with the water, but it won't heel over in the same way as a yacht, which makes it more predictable and better suited to beginners and for e.g. kids to find their balance and to walk around on deck when you are at sea.
So a catamaran is less exhilarating for the actual sailing bit, but you might decide that the pros more than outweigh this.
Manoeuvrability (in the marina)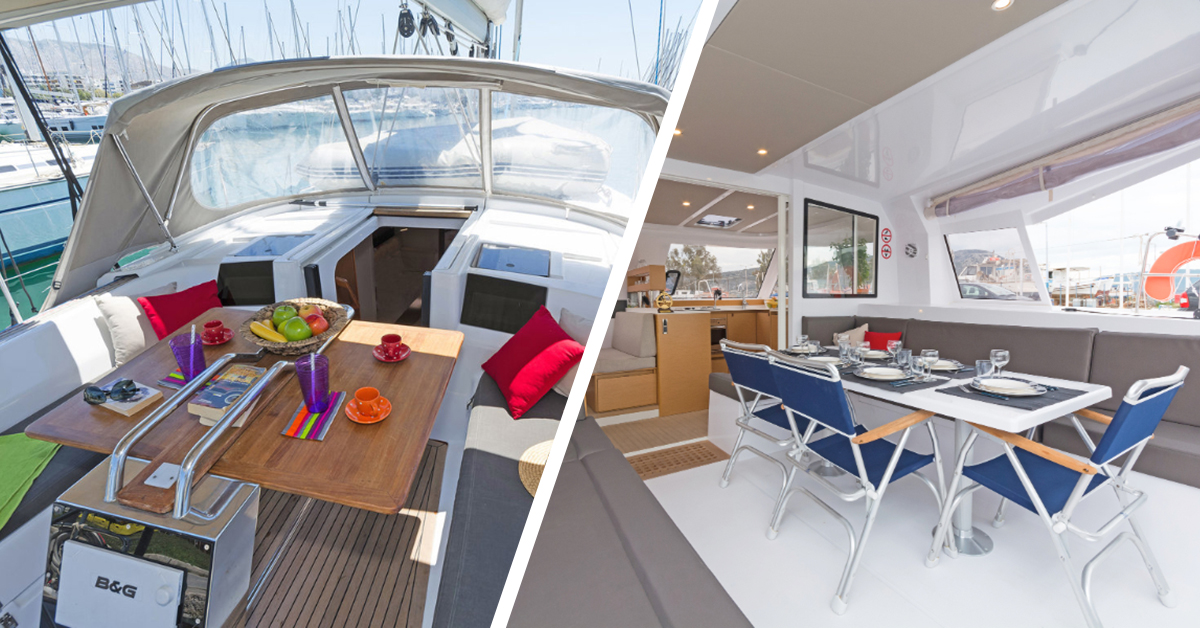 Because it is bigger, you might be surprised to learn that a catamaran is actually easier to pilot around a marina than a yacht. A catamaran boasts two separate engines with fairly self-intuitive controls, and you can pretty quickly adjust your position in a marina using one or both engines - you can even turn the boat 360 degrees inside its' own length with a catamaran.
In addition, because there are two hulls, then the wind speed and direction have less of an impact on a catamaran (though the wind hits the windward hull the same as a yacht, the second hull helps to steady the ship, so it has a lot less effect).
A yacht, with a single motor to control speed and direction, and a single hull being blasted by the wind, is trickier to navigate at close quarters with other boats, and requires some experience or fore-thought (or both!) to moor up in a marina, particularly when conditions pick up.
Space on board and in the cabins / Comfort / Luxury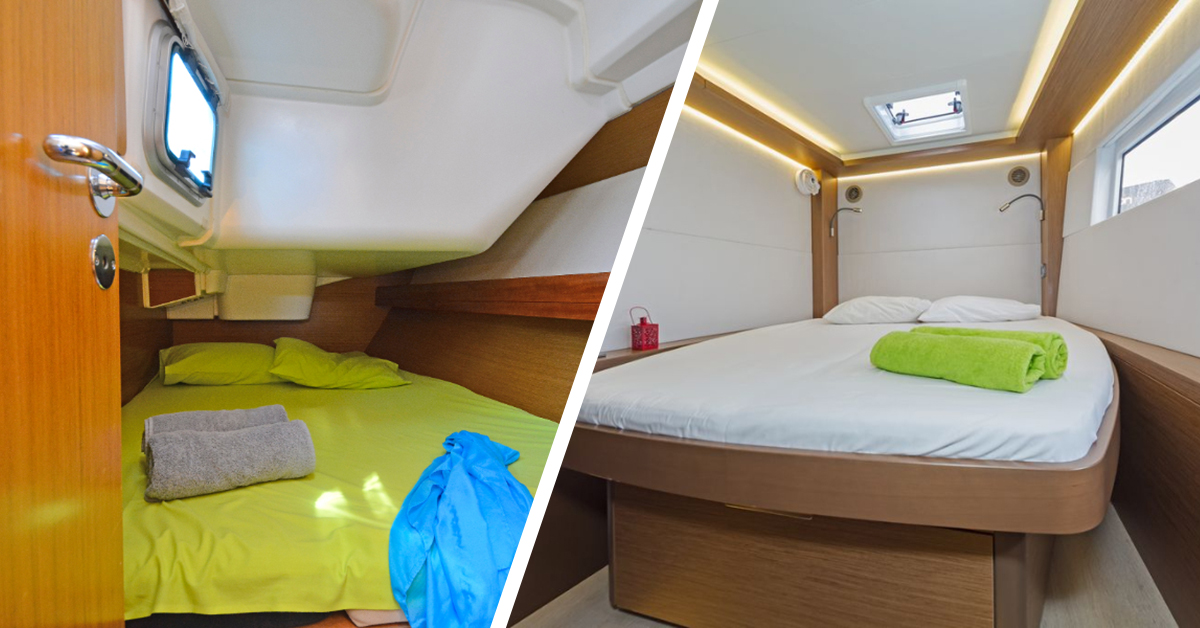 Because they have two hulls and a platform in-between, catamarans can be made a lot wider than a yacht (a super-wide yacht would be difficult to manoeuvre), and because they are much wider, then there is a wealth of space to move around in.
The extra width is used to create larger seating areas on a catamaran, more spaces to sit and socialise in (as opposed to just the cockpit or saloon area on a yacht), bigger cabins (and beds), more bathrooms (or 'heads') – often most cabins on a catamaran are en-suite, whereas on a yacht, you will likely be sharing two or three toilets between everyone on board.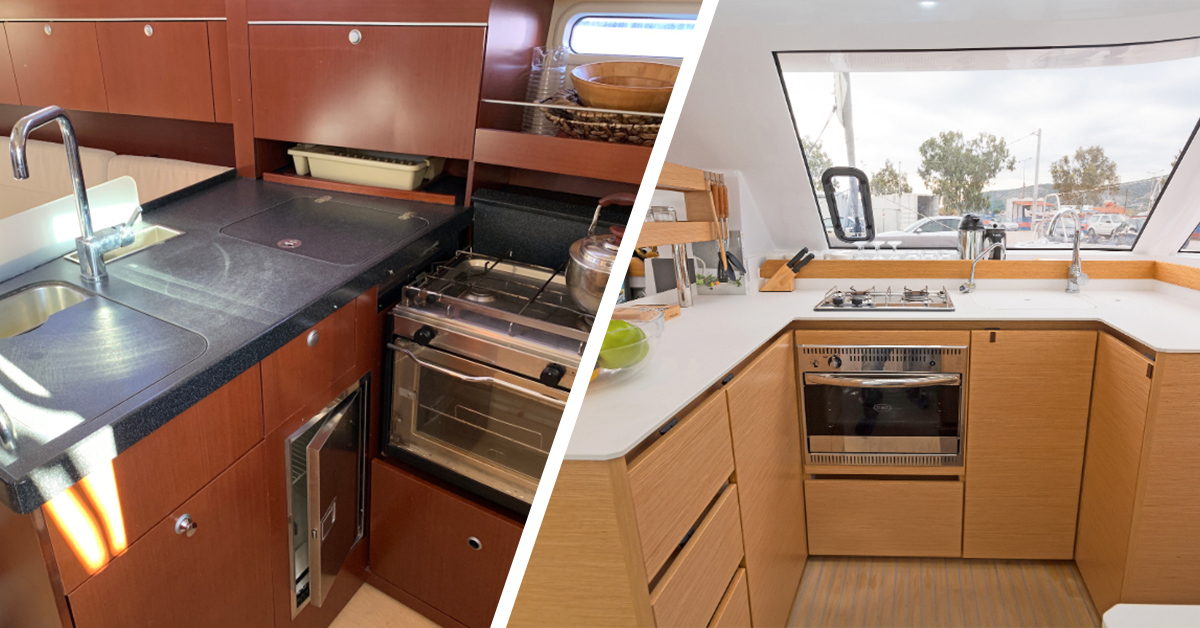 Likewise, the galley area can be more expansive, and can offer plenty of worktop space, extra rings to cook on, and even microwaves, dishwashers, full-size fridges and freezers, and all sorts of other mod-cons which add to the sense of luxury (and which are a lot rarer on a yacht). There's also more space for lounging around and sun-bathing in, and the 'deck' is usually higher up than a yacht (all the better for diving into the sea from).
However, a yacht has been specifically designed to be the right size for the number of people on board - so they don't feel cramped, and they have all the kit you need to enjoy a week away at sea. And one issue with all that space on a catamaran is that it's possible to lose the closeness that comes from a week of forced shared time and togetherness spent in the heart of a yacht.
Price
As they are bigger and more expensive to buy, it costs more to charter a catamaran than a yacht – if you use the pink box and search 'all' then you'll get a list of available boats for your week and PlainSailing.com base, which now shows both yachts and catamarans, and it's easy to see the price difference (usually about 50% to 100% more).
Catamarans also attract larger marina fees (since they take up more space in the marina) for the nights you spend in a marina, and, with two engines, you'll use twice as much fuel in a catamaran as you do in a yacht – which you will also have to factor into your costs.
PlainSailing.com recommends!
We can help you arrange a charter yacht or catamaran in Croatia, Greece, Italy, the Med, and in the Caribbean. What we'd recommend depends upon what type of sailor you are, and what sort of holiday you are after:
Catamarans are great for people considering a skippered charter, for people new to sailing, and for anyone sailing with kids (of any age) as they offer more space and luxury, and it is more like an exciting floating holiday home.
Yachts are fantastic for people who are on a sailing holiday for the thrill of the sailing, who like to ride the waves, and enjoy exploring and life at sea for a reasonable price.
Plainsailing.com
Plainsailing.com