Find a Yacht
LIVE
Pricing & Availability
Search NOW
https://plainsailing.com/blog/what-is-a-bareboat-yacht-charter-what-is-a-skippered-yacht-charter
What is a Bareboat yacht charter? What is a Skippered yacht charter?
Tuesday, 2nd November 2021
What is a Bareboat yacht or catamaran charter? What is a Skippered yacht or catamaran charter? We explain the difference.
If you're the sort of person who's always gazed longingly at the pretty-looking yachts and catamarans in the bay, but never quite known where to start with organising a boat for yourself then you'll come across a fair amount of technical boat when you start looking. It can appear a bit daunting, but actually it's all pretty straightforward - and you CAN do it!
Here we pick off some of the key basic questions for you (and ask our LiveChat team if you have any other queries – no matter how big or small, or how simple you think it will make you sound. Believe me, the team have already heard them all!)
What is a Yacht or Catamaran charter?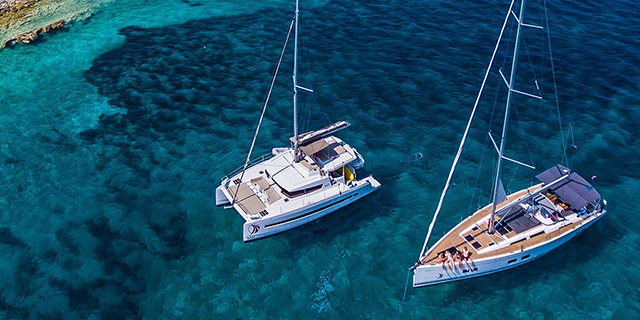 A yacht charter is a boat-speak way of saying 'hiring a boat'. Unlike hiring a car, boats are normally hired only for a full week (like Villas or other tourist accommodation), though it's possible to hire them for less (or more) than a week if you travel outside of the main season (May to September).
Like hire cars, boats come in all different shapes and sizes, and there are boats to suit any number of people.
What is a Bareboat Yacht or Catamaran charter?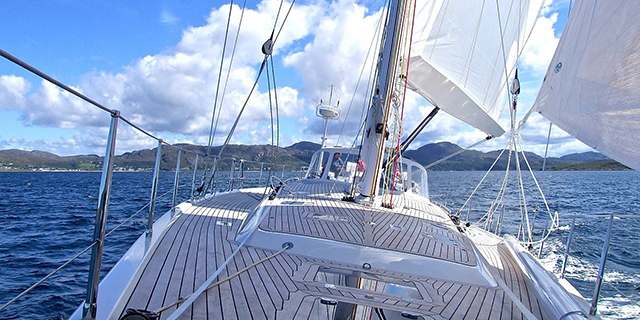 'Bareboat' means hiring just the boat. To hire the boat on its own, you have a formal sailing qualification or some serious sailing experience as you'll be personally responsible for the boat for the week: the boats you're hiring are worth a few hundred thousand euros, so they need to be sure that you'll look after them (and that they'll be able to rent them out again the week after you have had the boat!).
If you think about it, you can't hire a car without a driving license, and hiring a boat is no different – there are minimum qualifications you need to charter a boat.
Incidentally, getting a sailing qualification isn't as hard as it sounds – the RYA Day Skipper qualification can be achieved with an online learning module for the theory and then 10-15 days of practical experience (and an assessment) on a boat.
What is a Skippered Yacht or Catamaran charter?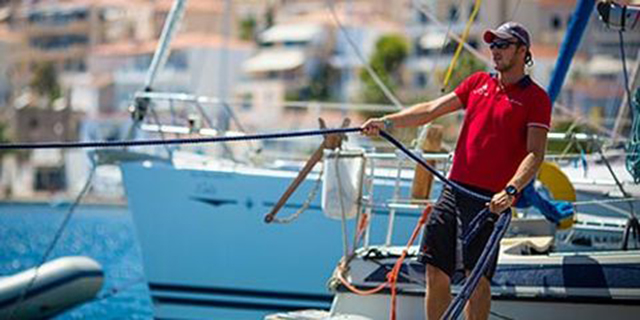 Imagine hiring a hire-car with a driver for the week. You've basically just imagined a 'Skippered yacht charter' – though obviously switching a car for a boat - which essentially means that you charter a yacht or catamaran with a Skipper, or someone who is qualified to hire the boat.
They will be responsible for steering the ship, making sure that the boat (and the crew) are safe, and for other small things like making sure there is enough fuel and water on-board.
They sleep in their own cabin on the boat (so make sure you get a boat big enough – ask our LiveChat team for advice over what size of boat you should get). They are paid for their services for the week (usually around €1,050 to €1,500 a week), and they know they're not on holiday with you – they are there to be professional, help keep you safe, and help you to have the best holiday possible.
On catamarans and some bigger yachts then there is a 'skipper cabin' which is a pokey cabin which just about has enough space for the Skipper to sleep in, but they can access from the outside of the boat (so they won't need to go into the main living areas of the boat if you'd prefer them not to).
Food-wise, if you go off the boat for a meal then you don't have to invite them (they certainly don't expect it, plus they might have other stuff they'd rather do) – but you'd be expected to sub them an allowance (say €20-25) for them to get themselves something to eat. Conversely, if you're eating on board, they'll usually be happy with a portion of whatever you're eating.
What is a Crewed Yacht or Catamaran charter?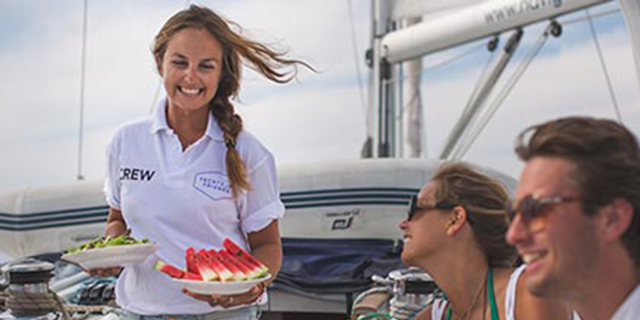 You can make your holiday even more relaxing if you hire not just a Skipper, but also other members of crew – maybe a Hostess who can prepare two meals a day, keep the boat clean and tidy and do the shopping or a Chef who can cook top class meals to lift your holiday to another level.
If you charter a bigger boat, then the Skipper will also likely need a Deckhand (who can help him to manage the boat, particularly at when starting and stopping the boat, when the Skipper would gladly have an extra pair of hands). Or the Hostess could be a team of people who can really pamper and look after you. Or how about a Yoga Instructor? Personal trainer? Etc…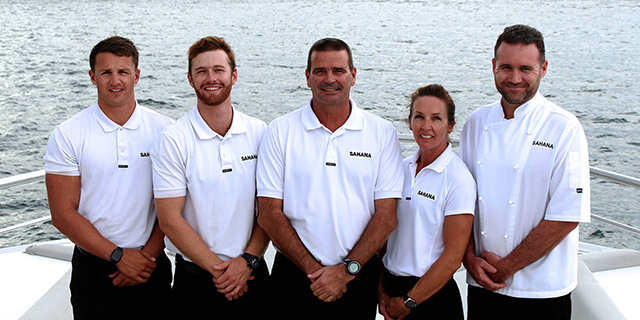 A crewed charter can range from having a Skipper and Hostess both on board right through to an eight-person team who will wait on you hand and foot (have you ever seen Below Deck?).
We have a specialist team who can help you arrange a crewed charter in the Med or the Caribbean – just ask.
Ready to start planning a Sailing Holiday?
If you're now starting to think about what sort of boat would suit you, then a great place to start is to read our guide to planning and booking a sailing holiday.
Plainsailing.com
Plainsailing.com