Find a Yacht
LIVE
Pricing & Availability
Search NOW
https://plainsailing.com/blog/top-things-to-do-on-a-boat
Top things to do on a boat!
Friday, 26th July 2019
What are you going to do on a boat for a week? Actually, there's loads to do, and the time will zip by! Here's our list of top things to do when you're on a sailing holiday.
On a sailing holiday, the boat is not just a floating hotel room – it's also your kitchen and dining room, your main transport, sailing is your main activity during the day, and the boat is the best place to sit, chat, lie and enjoy some time in the sun. A week might sound like a long time to spend on a boat, but whilst a week can feel torturously slow when you're sat at work, the same 7 days can pass by incredibly quickly when you're on a sailing holiday - here's our list of top things to do when you're on a sailing holiday.
Sail
Obviously. The engines on a boat are annoying and loud, so there's nothing quite like the peace and tranquillity you can get from shutting them down and hoisting the sails to harness the wind to travel. Particularly in the sunshine, and if there's enough wind to get the boat gently heeling over. Adrenaline junkies will prefer stronger winds where the boat almost feels as if it's flying above the water, whilst technicians will enjoy working out the angles, trimming their sails and tactics for tacking.
Socialise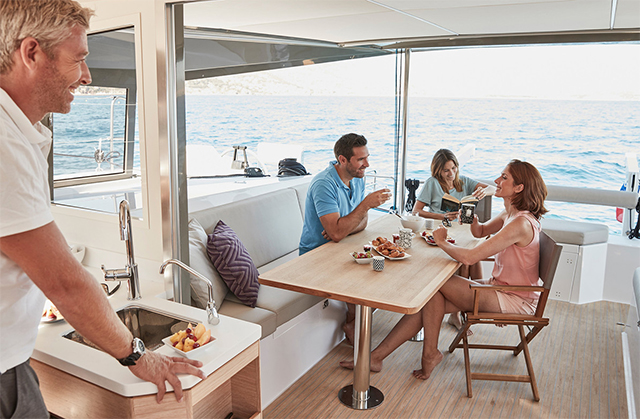 You don't have to get the sails out to have fun on a yacht or catamaran – you're instantly cool, just by being on one - you could even just use it for hosting dinner parties and evening gatherings in the marina, like the celebs do.
There's plenty of spaces to sit, lie and get comfortable whilst you get to know your crew: catch-up, chat, banter, theorise, discuss, debate, put the world to rights, laugh, scream, shout, sing – make the most of being on holiday with other people. It's a fact that people always leave a sailing holiday with more and stronger friendships than they started with. Cheers!
Explore
Some people get hooked by the sailing, and enjoy the journey. Others get hooked by the chance to see new places each and every day, so it's all about the destination. It's fun to find somewhere that sounds amazing on the map or in the pilot book and to go and explore it for yourself. Not to just read about it, or to see pictures of it, but to actually go out and live it. New beaches, towns, restaurants, islands, ports or more - whatever you're looking for, it's out there!
And on a boat you can go in pretty much any direction you want, and (depending upon your skipper and how strict they want to stick to the planned itinerary) there are no rules about where you have to go. So let your hair down, and enjoy the freedom and time to explore.
Swim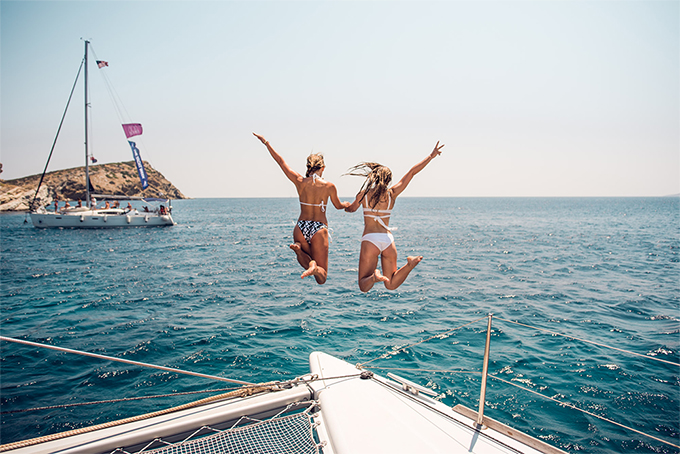 Being on a boat is the best place to be when the sun is beating down on you – if you're beginning to feel the heat, then you can simply hop off into the sea to cool off. Delicious. The Med is blessed with some of the best crystal clear blue waters and delightful sandy beaches which invite you into the water. Even the non-serious swimmers will want to get involved.
And of course, if you need some exercise in your routine, how about a nice early morning swim before breakfast?!
Sunbathe / Read / Sunbathe & Read
There's plenty of places to lie in the sunshine, all private and reserved entirely for you (and your crew), and never more than ten metres from all your stuff. You can lie down, close your eyes, and while away the hours in blissful sunshine, soaking in the rays. Or, if keep you're a holiday reader, keep your eyes open and assume the same position but accompanied by a good book.
No one has the time to sit and read these days…
Relax
Put on your music, grab your favourite drink, and sit amongst your favourite people, in an idyllic setting, in the sunshine. Forget about work, or money, or all the other stresses of modern life – just sit and be.
And there is no better place to 'be' than on a boat!
Plainsailing.com
Plainsailing.com