Why Book With Us?
Simple, straightforward process
Outstanding customer service
Friendly UK-based team
Pre-order food, kit or WiFi onboard
Join Our Mailing List
https://plainsailing.com/blog/to-outboard-or-not-to-outboard-that-is-the-question
To Outboard, or not to Outboard? That is the question
Friday, 21st June 2019
Souping up your dinghy with an outboard motor is one of the optional extras on offer on yachts and catamarans - how do you work out if you need one or not?
It seems to be fairly industry-standard that there'll be an extra charge if you want to have the luxury of an outboard motor strapped to the back of your dinghy, but are they worth the money?
The short answer is: it depends. There's nothing worse than paying good money for something you don't need or use, so you need to think about what sort of holiday you're planning and then work out whether you'll get value for money for splashing out, or if you'd rather keep your money in your pocket with the awareness that you might have to build up a sweat with a pair of oars.
All yachts and catamarans come with a dinghy with oars for getting to or from the yacht to the nearest beach, tree, caves or town. Using oars for more than 50m is a bit of a slog, so the big question is: how much will you actually use the dinghy, and, therefore, how much benefit would you get from having an outboard motor?
It depends on your plan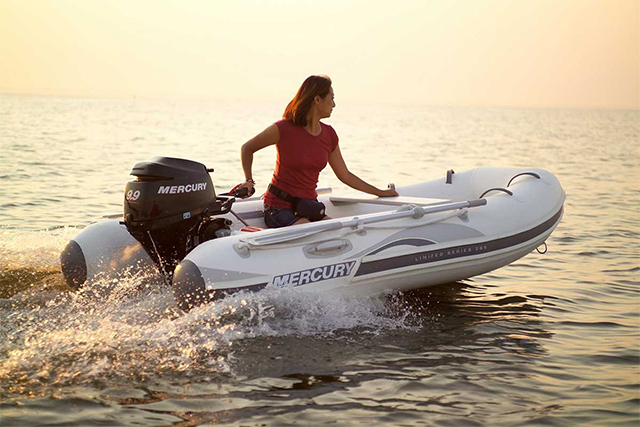 If you're planning on returning to a marina each night, and just swimming near the boat during the day, then you might not even get the dinghy out all week, so it's a no-brainer to pay for the outboard motor.
But if you're planning on heading to places where you can throw down the anchor and then get in the dinghy to explore the local area, then it might make sense. It's not so difficult to use the oars, but it is a bit time-consuming and very quickly becomes hard work – and that's obviously not what holidays are all about!
Having an outboard gives you lots more options when it comes to where you can anchor (particularly if there's somewhere you're planning on visiting), and even more so if you won't be able to fit all the crew in the dinghy at once – if you thought your muscles ached from using the oars for the trip from the boat to the shore, just imagine having to do the journey twice.
In summary
So, if you think you'll use the dinghy more than twice in the week, then get an outboard motor to go with it, but if not, then odds are you can manage without one.
Plainsailing.com
Plainsailing.com