Why Book With Us?
Simple, straightforward process
Outstanding customer service
Friendly UK-based team
Pre-order food, kit or WiFi onboard
Join Our Mailing List
https://plainsailing.com/blog/sailing-with-a-baby-yes-you-can
Sailing with a baby: YES you can!
Thursday, 15th June 2017
Despite being experienced sailors ourselves, and having a similarly well-qualified crew, it was with some trepidation that we booked our flights and a sailing vessel for a week of sailing from Biograd in Croatia this summer. The reason? This time, we would be accompanied by our 16 month old daughter.
Traditionally, babies are supposed to be wrapped in cotton wool and kept at home – or so the internet would have you believe. When we were researching whether it was even possible to take a baby on a boat, we found that it seemed to be done only by real extreme sailor-folk, and mainly because they seemed to be in the middle of a planned long-term sailing expedition. Generally they also had their own boats, so were able to modify a cabin into a 'nursery' of sorts, where the baby would be safe to play – which is clearly beyond what we would be able to do to a charter boat!
Eventually, me and the wife both clicked the button to buy the flights, and we decided upon booking a catamaran from the brilliant PlainSailing.com. The price difference between a Cat and a yacht isn't that big (as long as you can fill all the beds), but you get a lot more space for your money: our cat was a Lagoon 450, which was almost three-times larger than the other boats in our flotilla. The extra space is worth its weight in gold (though if did weigh that, there's no way the boat would be seaworthy!)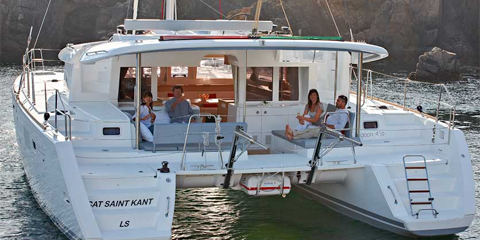 The overriding worry of travelling with a baby / toddler is that they'll go overboard and you won't be able to save them. Obviously, we were in the calmer waters of the Med rather than crossing the Atlantic, which is one thing, but we also paid the extra to get safety nets put up around the catamaran which made it virtually impossible for her to fall off by misfortune.
She also wore a baby life-jacket (which she even enjoyed wearing and reminded us of a few times!), and was of course accompanied and watched with one or more adults playing with her throughout the day (with our crew gallantly taking it in turns as required to keep her out the way). We were blessed with having a number of capable people on board, so that we could afford to have one person playing with the baby whilst the rest of us focussed on getting in or out of marinas or anchoring up.
When she was awake, the cat had enough room for her to move around, and, believe it or not, she even managed to play on a small scooter whilst we were at sea. The absolute key – for looking after a baby generally, as well as at sea – was in staying organised, having plenty of things to do to keep her occupied (and we were lucky that our baby likes to watch food being prepared and cooked). My wife also fashioned a home-made swing which we were able to tie up to the boom when we were moored up for the night – which she loved!
The baby slept in one of the cabins for nap-times, and the cabins on a Lagoon 450 were also large enough for night-times not to feel cramped, even with three of us on the same bed: the baby was put to bed early doors in an inflatable cot, but removed from it later in the evening and she slept between mum and dad.
Whilst we were out and about in Croatia, we did see other people with babies on a yacht, but I suspect that whilst it is possible on a yacht, it wouldn't really be too enjoyable, as you're on top of each other all the time. But it's certainly possible on a catamaran – so much so, in fact, that we're already planning our holiday next year!
If you'd like any hints or tips on travelling with a baby, I've volunteered to be a PlainSailing.com 'expert' so you can contact me for advice via their team at info [at] PlainSailing.com
Plainsailing.com
Plainsailing.com