Find a Boat
LIVE
Pricing & Availability
Search NOW
https://plainsailing.com/blog/planning-a-route
Planning a route
How do you work out where to sail your PlainSailing.com charter yacht or catamaran? Here's our top ideas!
Having read all the great reviews, and found their site super-easy to navigate, you've just booked an amazing sailing charter holiday with PlainSailing.com – but now what? How do you work out where to take it?
It's your holiday, so it's entirely up to you exactly where to go (even if you are on a skippered charter – the skipper will sail you wherever you want to go, so it is your call).
There are a few different ways you can use to plan the best itinerary for your holiday:
1. Follow someone else's plan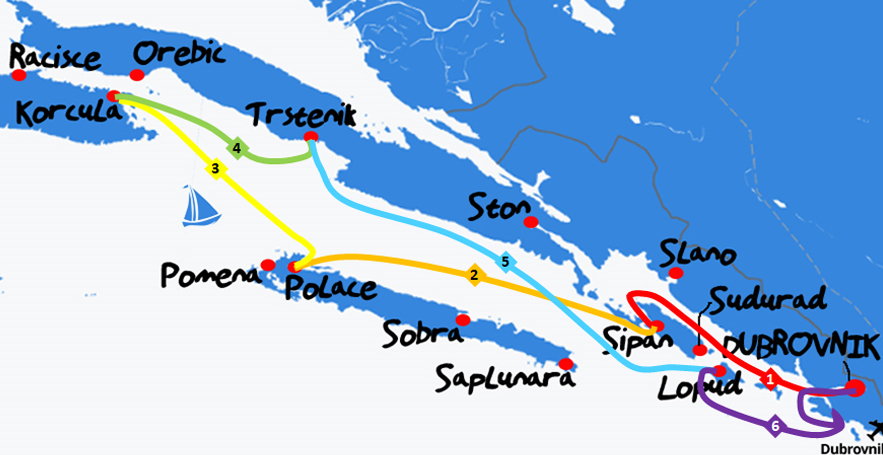 The easiest way is to follow an itinerary that someone has already made! The PlainSailing.com destination guides all include a suggested one-week itinerary which is a great route to try. The PlainSailing.com routes generally always finish in a marina, but you could always substitute the marinas for a couple of nearby bays if you wanted.
This method is great because the route is tried and tested, and because you don't have to do any of the heavy thinking, but if you don't research the sailing area, it might mean that you miss out on something you find personally fascinating (but which might not appeal to whoever wrote the original itinerary).

2. Use Our Sailing Distance Calculator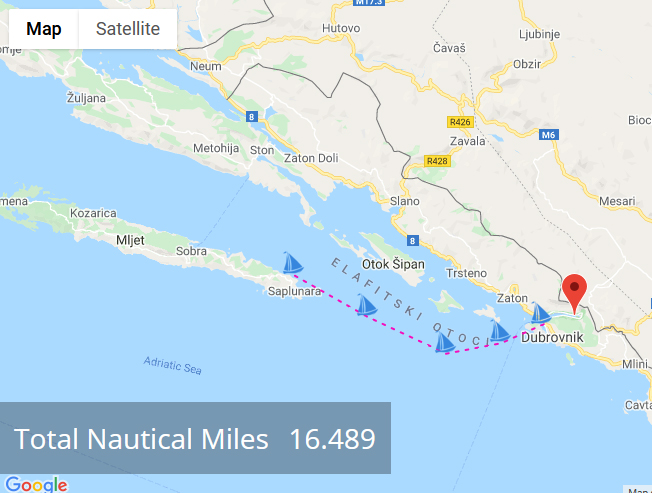 If you're interested in planning your own route, then the next easiest thing to do is to hit the PlainSailing.com Sailing Distance Calculator – which is basically like sitting in front of a sailing chart with a pair of compasses, but way quicker and less fiddly!
You can find your charter start point and click around to find distances between islands, ports, or even countries. As a vague rule, about 20 nautical miles a day of sailing will allow for a leisurely 'holiday' pace, with about 4-6 hours at sea. Much shorter and the time at sea might be too short, and much longer and the days turn in to a bit of a slog (and less of a holiday) - all the PlainSailing.com destination guides aim to cover 110 to 120 nautical miles over 6 days of sailing.
The Sailing Distance Calculator is an overlay to Google maps, is completely FREE to use (and no need to register), and can be used to measure anything in nautical miles – from anywhere to anywhere, and around anything. For instance, sailing around Sicily would be a circumnavigation of about 450 nautical miles!

3. Use Imray charts on your tablet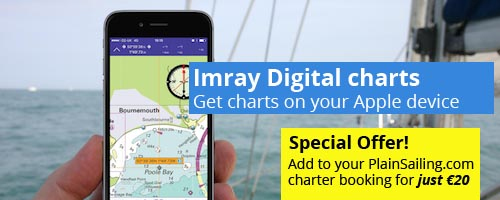 Our Sailing Distance Calculator works on Google maps, so doesn't have quite the same level of sailing detail as a sailing chart. No matter – you don't have to go and splash the cash on a paper chart, you can just download a digital version. PlainSailing.com offer their customers the chance to download the Imray charts for just €20 (which is half the normal price), putting so much powerful information at your fingertips.
You can also use it to set waypoints for a detailed itinerary, and even take it aboard with you on your tablet or smartphone. Easy.

4. Decide when you get there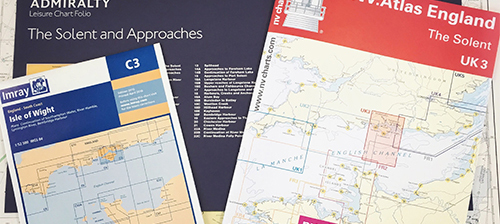 Some people prefer to wait until they actually get out on their boat before they start making plans – that's because then they'll have full knowledge of what the weather is doing for the week ahead ("will it be comfortable or easy to sail from A to B, or should we sail to C instead?"), and can dig out the paper charts and get a feel of the compasses in their hands.
This method means that you can't get too excited about going to any particular place in advance, but it also means you shouldn't be too disappointed if you don't manage to get there either.

5. Go with the wind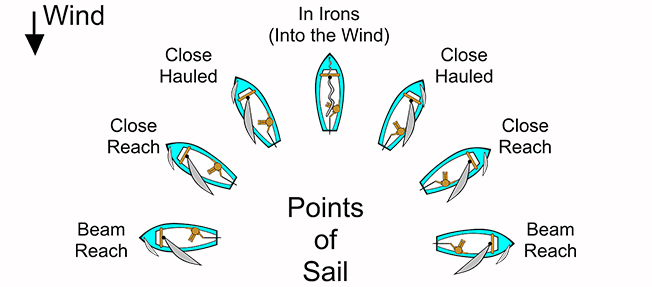 The ultimate in either spontaneity or lazy route planning is just to wing it on a day-to-day basis, based upon what the wind is doing right here, right now.
And maybe even changing the plan as you go through the day ("This bay is amazing, let's stay here and swim for another couple of hours").
The plan is that there is no plan (but obviously still paying attention to weather forecasts and making sure that you're always safe).
Plainsailing.com
Plainsailing.com