Where Should I Sail In Greece Or Croatia
Find a Yacht
No need for quotes - search NOW for boats with LIVE pricing and availability
Why Book With Us?
Simple, straightforward process
Outstanding customer service
Friendly UK-based team
Pre-order food, kit or WiFi onboard
Join Our Mailing List
Blog
https://plainsailing.com/blog/latest-news/where-should-i-sail-in-greece-or-croatia
Where should I sail in Greece or Croatia?
Friday, 26th January 2018
Knowing you want to go sailing is the easy bit: it's working out where to go that can be a very difficult decision, and that's where we're here to help!
First things first, whichever of our bases you choose to charter from, you will still have the chance of a brilliant holiday, with sun, fun, the sea, and sailing. Given that most of the week will be spent on-board your yacht or cat, it's really the people who you're sharing it with who will make or break your holiday more than the places you go or the things you see. A great and happy crew makes for a great holiday.
That said, you'll have an even better holiday if you plan a little ahead and know what you're looking for: choosing the right place to start from can make a big difference to what sort of views you'll be looking at from your ship, the places you'll be able to visit and explore, and the people that you'll meet.
From ancient civilisations and Roman ruins to modern day cosmopolitan metropolises, from sleepy islands to party towns, and from mountains to lagoons, you'll find it all within easy reach of our bases in Croatia and Greece. The Med is a big place, and there really is something for everyone.
If you're after ancient history, Athens was the birthplace of modern civilisation, and the Parthenon – still standing after nearly 3,000 is a good place to start. Elsewhere, Pula had an ancient Roman amphitheatre (which is just 2,000 years old), and Dubrovnik (the main filming location for Game of Thrones) is a brilliant and medieval walled city.
For the island hoppers out there, Corfu, Rhodes and Skaithos are obviously based out in the thick of groups of islands, whilst Lefkas and Lavrio are well positioned on the Greek mainland to act as a launch pad for exploring the nearby islands, and Biograd (for the Kornati islands) and Trogir, Kastela or Split (for the Dalmatian coast).
For the party animals, Kos and Hvar (from Split area) are notable places to head to, and Kefalonia is famous for being a place with a manic nightlife, and where the fun never stops.
To help you decide, you could contact our team via LiveChat or our UK Freephone hotline to discuss the options, or use our handy decision tree below.
Whatever you choose, we're sure you'll find your ideal yacht or catamaran at PlainSailing.com :)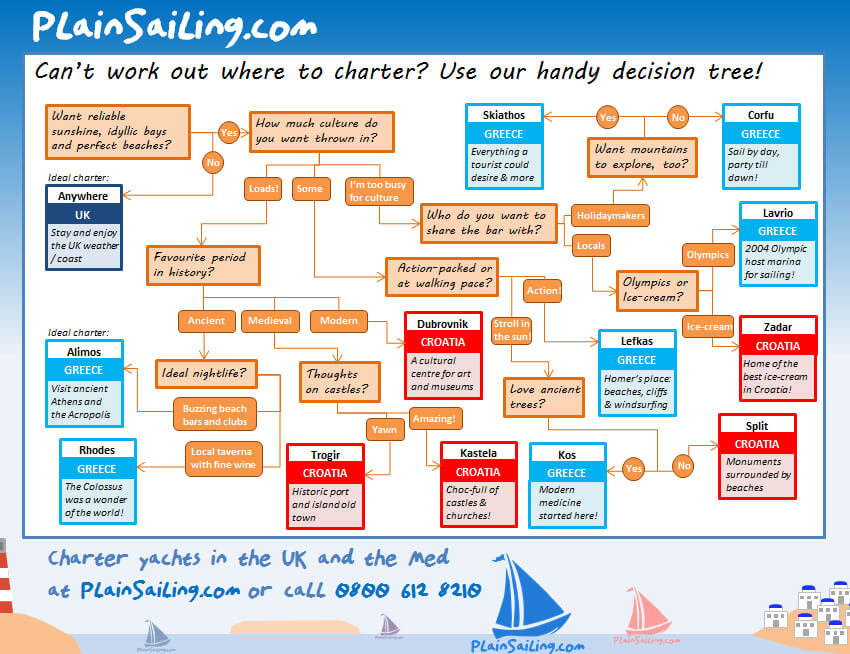 Plainsailing.com
Plainsailing.com