What To Buy A Sailor For Christmas Not A Book Of Knots
Find a Yacht
No need for quotes - search NOW for boats with LIVE pricing and availability
Why Book With Us?
Simple, straightforward process
Outstanding customer service
Friendly UK-based team
Pre-order food, kit or WiFi onboard
Never beaten on price!
Join Our Mailing List
Blog
https://plainsailing.com/blog/latest-news/what-to-buy-a-sailor-for-christmas-not-a-book-of-knots
What to buy a sailor for christmas? Not a book of knots…
Tuesday, 1st December 2015
I am a sailor, and that tiny snippet of information has unfortunately meant that I have been on the receiving end of some hideous Christmas presents in my time.
Sadly, most 'decent' gear for sailors will cost upwards of £60, which is already well outside the bounds of what anyone (except extremely close family) is likely to be willing to fork out to see the smile on my face. (And that's only if I remember to smile this year!?)
Instead, my (generous) present-givers have resorted to numerous 'sailing-related' gifts. That means I've had two sets of compasses (one set even personalised with my name), four books on knots (as if that is all there is to it?), a framed chart of the UK, and the autobiographies of four or five ancient sailors (all still currently unread). All kind of forgivable, but nothing to get the heart racing on Christmas day, and certainly nothing to run down the stairs for.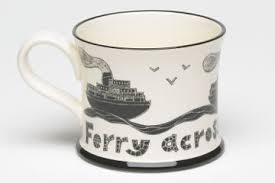 And secret santas are worse: people will just buy you anything which has a picture of a ship or, tenuously still, something nautical on it - as if I'll insist on shaking my salt only out of something shaped like an anchor, need ornaments of a ships helm, or that I'm religious about only reading with the assistance of a nautical themed bookmark?
I think my worst gift (a secret santa, so I can't even blame anyone!) was a mug with a picture of a ferry on. It's not even a yacht, people?!
Of course, it's the thought that counts at this time of year, and at least being a sailor leaves me well placed for dumping things overboard and forgetting all about them. Joke.
So what should you get the sailor in your life? Well, personally, there's two options, depending upon how forthright you'd like to be: either a) buy them a guide-book of somewhere you'd like to go cruising, wait for them to fall in love with it and to invite you on a holiday with them or b) buy them gift vouchers towards a yacht charter (available on PlainSailing.com if you send us an email!) and they're then officially obliged to take you sailing with them!
Plainsailing.com
Plainsailing.com