Why Book With Us?
Simple, straightforward process
Outstanding customer service
Friendly UK-based team
Pre-order food, kit or WiFi onboard
Join Our Mailing List
Blog
https://plainsailing.com/blog/latest-news/in-the-med-5-trogir
In the Med #5 - Trogir
Wednesday, 29th June 2016
If you're a big fan of old medieval towns with outstanding architecture and narrow, cobbled streets, then Trogir is the place for you.
Charter from: Trogir, Kastela, Split (via plainsailing.com)
A UNESCO world heritage site since 1997, Trogir 'city' is built upon an island just off the mainland, and has been inhabited since 300 BC, when the Greeks and then the Romans used it as a major port. Italy being just over 60 miles away, the whole area was under Roman and Venetian rule for over 1,500 years before the Habsburg dynasty occupied the lands for 200 years, and more recently the area has seen Yugoslavian and, in 1991 independent Croatian rule.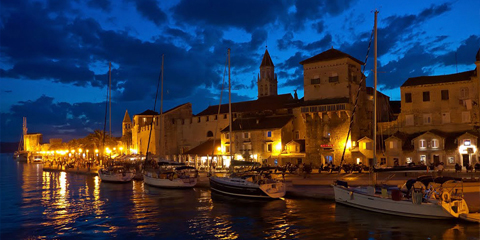 The UNESCO site includes the walled city, a fortress, a palace, a cathedral and ten churches, and a labyrinth of narrow streets and piazza's in which you can lose yourself. The piazzas, with their shaded cafés and gelaterias become particularly appealing when the hot Croatian sun is burning down on you, or on slow summer weekend afternoons, when local performers dig out their instruments and create a dreamy medieval vibe across the city. There's also an attractive waterside front with a strip of restaurants and bars which are lively and positively buzz in the summer evenings.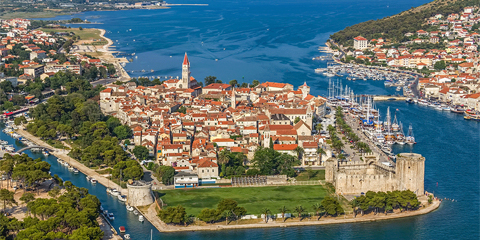 Further out from the 'city' (which has just ten thousand inhabitants, but can swell to five times that during the tourist season), there are beautiful beaches, mountains, and, of course, the sea.
Chartering a yacht from the marina - or, indeed, just visiting - you can get an added perspective of the city by sailing past it, and drinking in the sight from the waters edge.
Charter an 8 person Dufour 36 yacht from PlainSailing.com for a week in August 2016 from just £1,450! Call or email us!

Plainsailing.com
Plainsailing.com