In The Med 4 Corfu Old Town
Why Book With Us?
Simple, straightforward process
Outstanding customer service
Friendly UK-based team
Pre-order food, kit or WiFi onboard
Join Our Mailing List
Blog
https://plainsailing.com/blog/latest-news/in-the-med-4-corfu-old-town
In the Med #4 - Corfu Old Town
Thursday, 19th May 2016
PlainSailing.com offer yacht charters from seven charter destinations in Greece, and five in Croatia – and we guarantee to give you the lowest price without compromising on service and quality!
Corfu
Charter from: Cofru, Lefkas (via plainsailing.com)
Number four in this series was originally going to post about the beauty of Rhodes and the majestic Knights Templar – which I would strongly recommend to any and everyone as a sight to behold – but with the ongoing tumult of asylum seekers and refugees in that zone of the Greek Islands (which is putting some people off chartering yachts in what is one of the most beautiful areas in the med), we'll focus on one of the western Greek islands instead.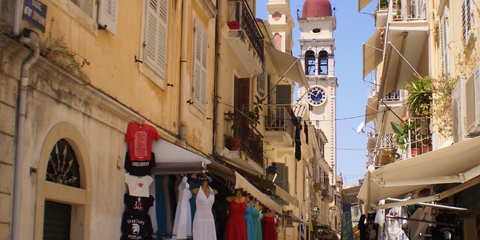 Mention that you're going to Corfu to people in the UK and they might look back at you in horror – but worry not, PlainSailors, because, whilst there are a few large and probably generally grotty package holiday resorts on the island, they are tucked out of sight and out of mind in the South of the island.
T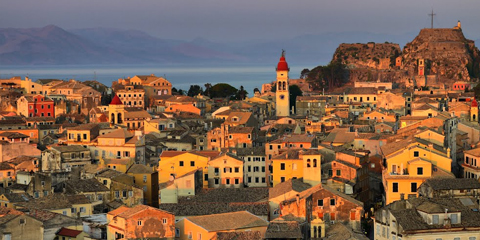 he Old Town is situated mid-way up the East coast, from which the marina (recently built and boasting all the mod cons) is but a short 10km drive, walk, or even sail away.
Corfu old town is one of those cities which retains an antique charm, with monumental buildings standing either side of narrow cobbled streets – so much so, in fact, that it is now a UNESCO world heritage site. The streets are filled with souvenir shops, ice-cream parlours, tavernas and specialist shops - offering all manner of local produce, from sponges to gyros – and it's very pleasurable to stroll around the streets and the piazza's of the city, ideally with an ice-cream or frozen yoghurt in your hand.
The old town is best known for its incredible history, having been an island of strategic importance to the Venetians, the Byzantines and various other dynasties, who have left the old town with not one, but two castles with which to defend itself, which are both worth a poke around if you're a castle fan, and even if you're not.
Interestingly, the island has even been under British rule, and it is one of the few places in Greece where you might spot locals playing cricket (and with their balmy weather, they could play it all season long!)
Charter an 8 person Bavaria 37 yacht from PlainSailing.com for a week in July 2016 from just £1,750! Call or email us!
Plainsailing.com
Plainsailing.com