Crazy Facts About Cowes Week
Why Book With Us?
Simple, straightforward process
Outstanding customer service
Friendly UK-based team
Pre-order food, kit or WiFi onboard
Join Our Mailing List
Blog
https://plainsailing.com/blog/latest-news/crazy-facts-about-cowes-week
Crazy facts about Cowes Week
Friday, 7th August 2015
We know something you don't know…. (Maybe!) Check out our four favourite facts about the World's favourite regatta, and, if you like them, please follow us and RT :)
The biggest regatta in the world!
Cowes is not only the worlds' favourite regatta, but also the world's biggest! This year, there will be over 1,000 boats, competing in over 40 races a day – and that's not to mention the 8,500 competitors and 100,000 spectators who will be over in Cowes for the week!
The oldest regatta in the world!
This is going to shock you, but Cowes regatta officially began in 1826, nearly 200 years ago! Queen Victoria (!!) was just 7 years old when it all began. That pre-dates not just the invention of the aeroplane (1903), but also steam trains, bicycles, and even footballs!
It was started by Royalty and a £15,000 prize!
The regatta commenced when the Prince-regent (who would become George IV) - who, naturally, loved yachting - decided to put up a prize of a gold cup with a value of £100 as a prize for a sailing race at Cowes. That was BIG money in those days, particularly for yachting – the conversion chart we found online values the prize at £15,000 in todays money! Not bad for doing a bit of sailing!
The America's cup started here!
No, seriously! The America's cup came about when the New York Yacht Club staged a challenge race at Cowes in 1951, throwing the gauntlet down against the local Royal Yacht Squadron! Since then, the America's cup has grown and grown to the sailing phenomenon it is today.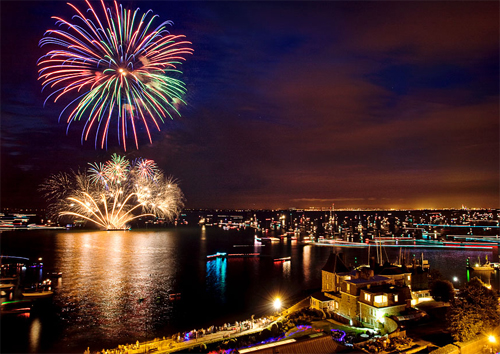 It all ends in fireworks!
And to wrap up, fireworks have been traditionally used to close Cowes week (after 8 days of glorious sailing and a carnival atmosphere throughout the town) for over 150 years! 150 years?! I'd hate to think what fireworks were like back then, but I think it's a safe bet that they must've set at least a few yachts alight with them?!
Follow @plainsailing now :)
Plainsailing.com
Plainsailing.com