In The Med 1 Blue Cave Bisevo
Why Book With Us?
Simple, straightforward process
Outstanding customer service
Friendly UK-based team
Pre-order food, kit or WiFi onboard
Join Our Mailing List
Blog
https://plainsailing.com/blog/latest-news/in-the-med-1-blue-cave-bisevo
In the Med #1 - Blue Cave, Bisevo
Tuesday, 29th March 2016
In this new regular feature, we look at some of the best or most interesting places for sailors to head for in Greece and Croatia.
Blue Cave, Bisevo
Charter from: Split, Trogir, Kastela via PlainSailing.com
Having read the guide books, it was with a real sense of anticipation that we headed out to Bisevo, just off the coast of the island of Vis in Croatia, and about a million miles away from the Croatian mainland.
Although we read that there were places to moor up, when we got to the cave, it worked out easier to go in two trips, and to leave half of the boat on deck whilst the other half manned the dinghy and headed into the cave itself.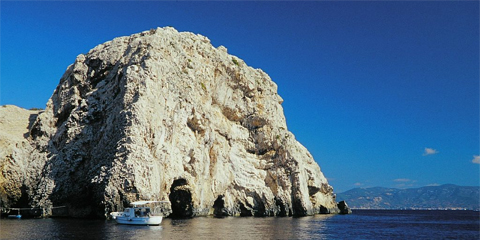 With the internet and guidebooks, the Blue cave is an attraction that has skyrocketed to the attention of holiday makers in recent years – believe it or not, here, in the middle of nowhere, they still manage to employ a ticket inspector and charge a (modest) entrance fee!
The Blue cave, as the name suggests, is a cave which is filled with an unearthly and incredible blue light (caused by light projecting upwards from the sea into the cave). Its glow is both creepy and jaw-droppingly incredible at the same time, and is genuinely a wonder to behold (and the photographs clearly don't do it justice, but you get the idea).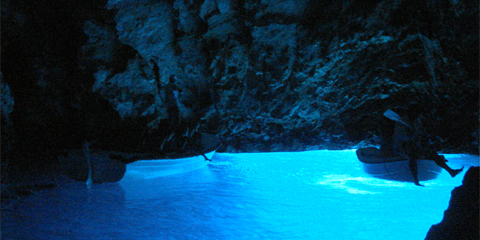 We spent about 15 minutes inside it, swimming in the light/water and feeling overwhelmingly calmed and cooled from the surreal experience – it was one of the highlights of an epic sailing week, and something I'd strongly recommend it to anyone in the area. Amazing!
PlainSailing.com offer yacht charters from seven charter destinations in Greece, and five in Croatia – and we guarantee to give you the lowest price without compromising on service and quality: it's our job to make your sailing holiday PlainSailing.com.
Plainsailing.com
Plainsailing.com