Find a Yacht
LIVE
Pricing & Availability
Search NOW
https://plainsailing.com/blog/even-more-plainsailing-com
Even more PlainSailing.com...!
Friday, 1st November 2019
Even though we've had a massive 2019 season, we're making major improvements to our website, to make finding your perfect charter yacht or catamaran in the Med even more hassle free.
It's been a record-breaking 2019 season. We've had more people and more boats out on the water, and in more countries and bases, than ever before! In addition, we're so proud to have scored 4.9/5 after 262 independent reviews on Feefo, and our partnership with Kuoni, to sell sailing holidays on the UK high street last February. And we're already flying for the 2020 season…
Renovated homepage
But there is always room for improvement, and we're investing and upgrading pretty much everything over the off-season - beginning with our renovated Homepage, which makes our site as easy to navigate as possible: there's sign-posts to help both newbies and experienced sailors find exactly the content they are looking for – from the basics of how a sailing charter holiday works, how much they cost, and what a skipper does for those new to the idea of a sailing holiday, right through to exhaustive information about mooring fees, transfer fees, where to sail, and quick access to the innovative and addictive PlainSailing.com sailing distance calculator (which lets you plot distances on google maps in Nautical miles!) for the old sea dogs.
Faster, more informative, better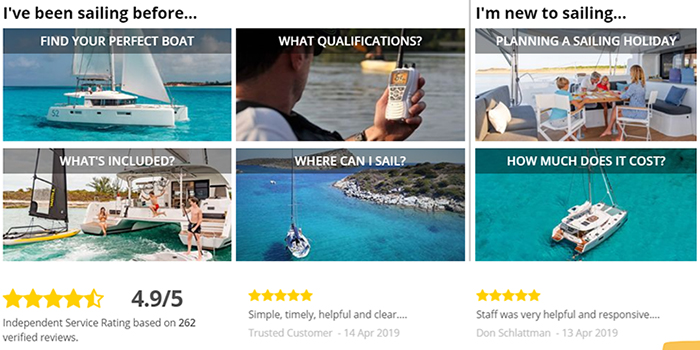 We're also looking forward to faster and more detailed search tools on their way, a super-enhanced and ultra-informative customer interface for 2020 bookings (allowing you to do even more to manage your booking online), and even more comprehensive information and tools to help and empower customers to go ahead and plan a sailing holiday.
New boats from trusted operators
Aside from putting our tech and development team through their paces, we're also in the process of listing plenty of brand new boats for the 2020 season - we're not like the other huge comparison sites – we have a select number of boats because they only list boats with operators which they have met, know and who they can trust to look after our customers.
Same old award-winning customer service!
And our award-winning super-responsive customer service team aren't going anywhere either, so it should be another smashing year!
Plainsailing.com
Plainsailing.com