What Are You Doing For New Year
Find a Yacht
No need for quotes - search NOW for boats with LIVE pricing and availability
Why Book With Us?
Simple, straightforward process
Outstanding customer service
Friendly UK-based team
Pre-order food, kit or WiFi onboard
Never beaten on price!
Join Our Mailing List
Blog
https://plainsailing.com/blog/latest-news/what-are-you-doing-for-new-year
What are you doing for New Year?
Friday, 9th October 2015
Have you started to think about what you're doing for New Year yet? (I'm guessing 'no', so I'll continue!). You probably want to do something different? Something fun? Something epic, which all your work colleagues would be jealous of? But something with say, a few members of close friends or family? Maybe somewhere classy, but not too expensive. Am I right?
Well if you've just been sat nodding your head like a hipster for the last paragraph, then we have some great news for you. Why not head away for some sunshine for the New Year? You can charter a yacht in Kos from Saturday 26th December to Saturday 2nd January from an incredible £665! That's a bargain!
Imagine getting away from the snow and the leftover turkey in the UK and sitting in the sunshine (7 hours a day!) on the back of a beautiful yacht? The boat gently bobbing up and down as you pop open the corks on another new year? The idyllic islands, delightfully empty marina's (No danger of crashing here!) Just imagine! And then returning to work on Tuesday 4th (after a bank holiday Monday at home), feeling so goddam refreshed and exhilarated that you positively skip into work, instead of the usual trudge. Have we sold it to you yet?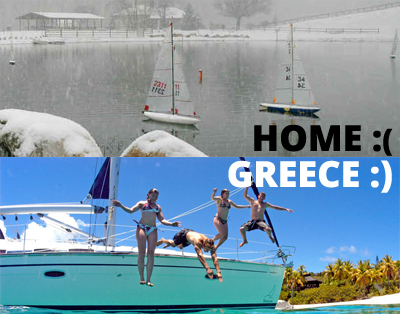 Did we mention that Kos is a beautiful place to visit?
Or forget Kos and head to the capital of civilisation: charter a yacht from Athens for the same period (but you could charter for less if you liked) for, again, just £665 for a bareboat 6-man yacht!
Or don't fancy flying? Ok, well one last offer: charter a yacht from Port Hamble from Thursday 31st December till Sunday 2nd January for a knock-down £830!
Do something different this New Year: you deserve it, and nothing beats celebrating on a yacht!
Plainsailing.com
Plainsailing.com