We Now Offer Security Deposit Insurance
Why Book With Us?
Simple, straightforward process
Outstanding customer service
Friendly UK-based team
Pre-order food, kit or WiFi onboard
Join Our Mailing List
Blog
https://plainsailing.com/blog/latest-news/we-now-offer-security-deposit-insurance
We now offer Security Deposit Insurance!
Wednesday, 30th May 2018
We've partnered with yachting insurance experts Pantaenius to enable us to make it super-easy to add security deposit insurance to your holiday – giving you peace of mind that your charter holiday won't be more expensive that you bargained for.
We now offer Security Deposit insurance!
Protect your security deposit by buying 'security deposit insurance' with PlainSailing.com and Pantaenius - insure a security deposit of up to €3,000 for just €180, or up to €6,000 for €350!
What is a security deposit?
When chartering a yacht or catamaran, you'll need to put a security deposit on a credit card (usually somewhere in the region of €1,000 - €3,000) - similar to leaving a security deposit when you hire a car.
If the boat comes back fine, then happy days, and they return your deposit in full, but if the boat returns in a worse state than it left the marina in, then the yacht owner can charge you for any damages and deduct it from your security deposit.
With brand new yachts costing upwards of £200k, and cats even more, then even a small amount of damage can quickly add up. You obviously have no intention of crashing or damaging the boat, but mistakes can become very expensive very quickly.
The maximum that you can be charged is the security deposit, but what if you can't afford to pay that much in the event of a collision? Well, there is 'Security deposit insurance' you can get for that – and we can help you arrange it.
What is security deposit insurance?
Security deposit insurance is just that – it protects your security deposit so that you will get it back in full, even if you cause accidental damage to the boat.
If you're charged any damages by the charterer, then pay them, then make a claim for a full reimbursement from your insurers - we help arrange insurance for you through Pantaenius, who are yacht specialists, who will reimburse claims within 5 working days.
How much does it cost?
A security deposit insurance policy to cover security deposits of up to €3,000 costs €180. A security deposit insurance policy to cover security deposits of up to €6,000 costs €350.
What does it cover?
This covers everything (including the outboard motor and anything else covered by your security deposit).
What is the excess?
In the event that you have to make a claim, there is a €100 excess.
When can I buy it?
Soon you'll be able to add charter security deposit insurance when making your booking. In the mean-time you can add it to your booking up to 48 hours before your charter starts – just ask our team:)
How do I make a claim?
In the event of needing to claim, you'll need to contact Pantaenius yacht insurance directly by telephone (+49-40-370910) or by e-mail to charterpaket@pantaenius.com.
You'll need to provide copies of the charter contract, evidence of the security deposit deduction paid (credit card receipt / sales voucher) and detailed statement of costs from the charter company (invoice, cost estimate) and signed by the skipper, as well as detailed photographs of the damage.
For more details, see the factsheet below: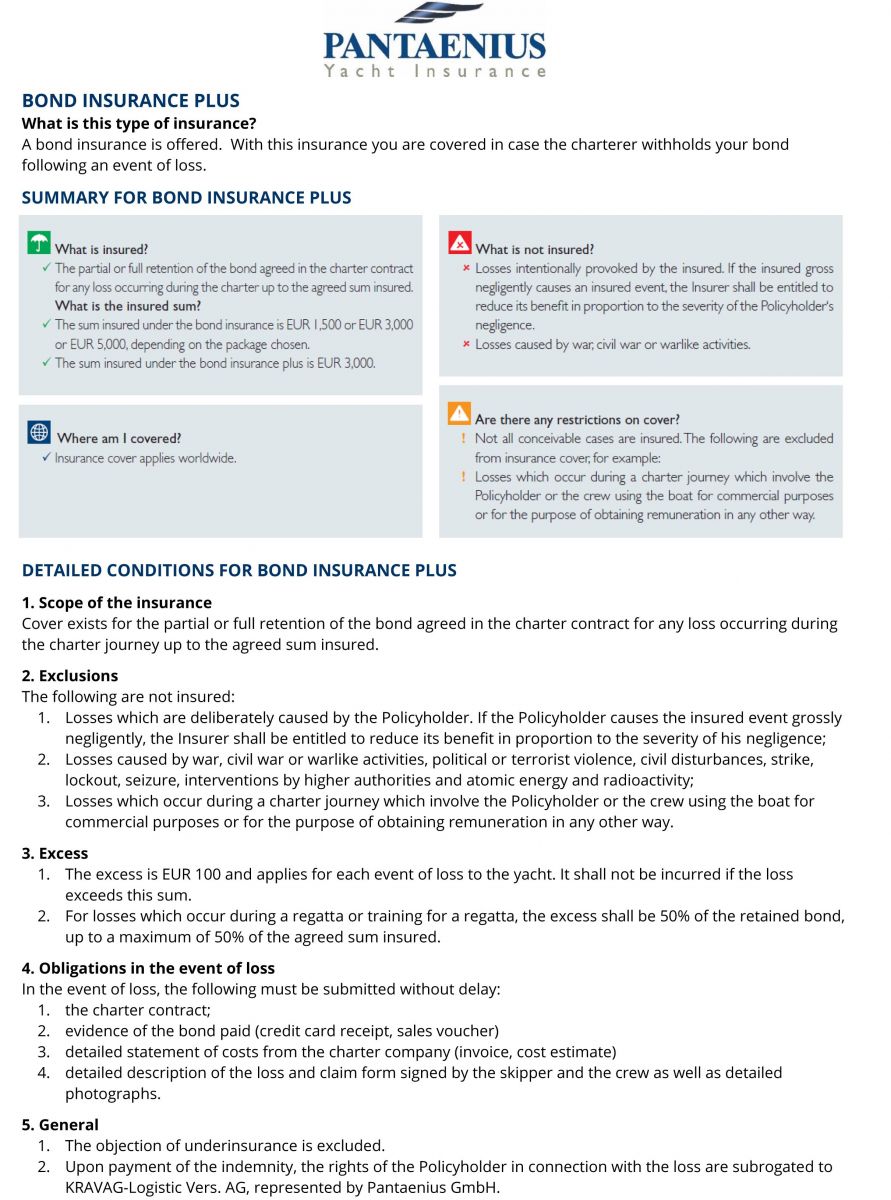 Plainsailing.com
Plainsailing.com