Find a Yacht
LIVE
Pricing & Availability
Search NOW
https://plainsailing.com/blog/get-your-boat-booked-before-it-s-too-late
Get your boat booked – before it's too late!
Tuesday, 28th January 2020
There's just three days left of 'early booking' discounts with most of our operators, and with boats getting snapped up fast, then NOW is the time to get a boat booked – before it's too late! Use our pink search box to find your ideal boat!
Boats are getting snapped up!
We're super busy at PlainSailing.com HQ – it's been a(nother) record-breaking month and it's impressive how many bookings are getting made, and how fast the yachts and catamarans are getting booked up: there's some weeks in Corfu where the smallest Catamaran you can charter is over 50 foot, and if you want a charter boat in Kefalonia then you'd better not be too picky!
And with more and more bookings going down every day, we're seriously recommending that you get your skates on and book your ideal boat before it's too late – particularly if you're fussy about a certain type, age or size of boat, or if you're hoping to charter something for a number of consecutive weeks (as chances are that boats will soon all be booked for at least one of them soon).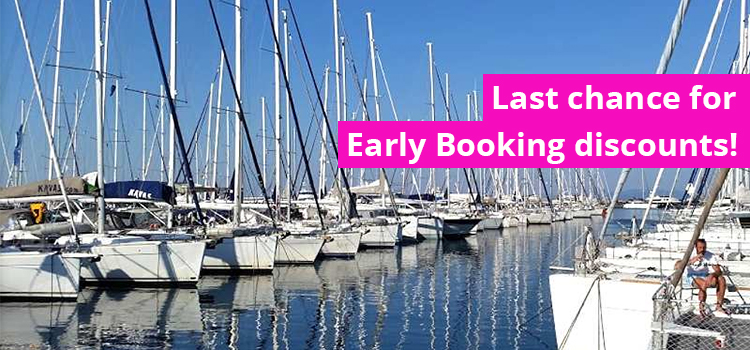 Last chance for 'Early booking discounts!
The end of January marks pretty much the end of the official 'early booking' season – and with it, the end of any 'early booking' discounts, which can be as much as 15-25% on boats across the board - so if you know you will definitely want to go sailing this summer, it makes sense to get it booked now too.
Many of the discounts are tied in to the 'Dusseldorf Boot' Boat Show, which finishes at the end of the week!
The prices on offer now are similar to the last-minute prices – but without all the drama of having to book something last-minute, and with the chance to book the exact right boat for you: with the ideal number of cabins and heads, at the right age, with all the right features (bow thrusters or air con anyone?), and at a great price.
Book with just 50% deposit – make it happen, Captain!
You can book with just a 50% deposit (with the rest due just six weeks prior to the charter start date), so summon the crew and make it happen, Captain!
Plainsailing.com
Plainsailing.com